Introduction and Overview about Brownie Recipe
Chocolate brownie recipe including dark chocolate, butter, eggs, sugar, and flour. Mix the walnuts in the chocolate cake, which gives an enjoyable contrast to the soft, chewy texture of the cake in the middle. The brownie is a soft desert square from the American Cuisine. It is being eaten in Canada and other parts of the world. There are different brownie recipe ideas in the world, but fudgy and cakey are the most famous.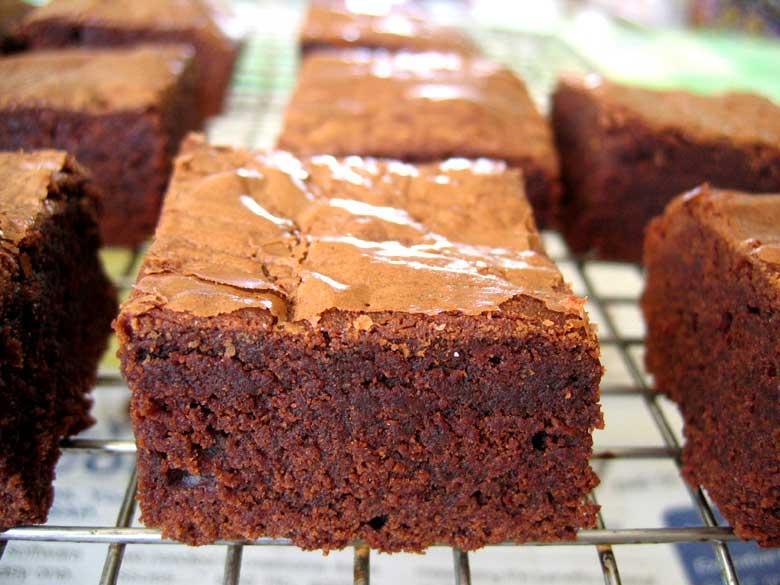 ---
Ingredients :
200 g Dark chocolate
50 g Butter
2 Eggs
2 1/2 cups granulated sugar
1 teaspoon Vanilla
1 1/3 cups flour
1 teaspoon baking powder
60 g chopped walnut
Equipment
Large and small bowl
Saucepan
Oven
Electric beater
Sheet of aluminum foil
Step by Step instructions:
Preheat the oven to 175 ° C.
Break the chocolate into pieces and melt it. Remove the saucepan from the heat and stir in the butter.
Beat eggs, sugar, and vanilla sugar. Mix with the chocolate.
Mix flour, baking powder, and chopped nuts and stir into the chocolate. Stir until smooth.
Take a sheet of aluminum foil, about 20 x 25 cm and brush it with melted margarine and sprinkle with the bread. Pour the batter and bake in the oven for 20-25 minutes. The cake will be dry on the outside, but a little chewy and moist inside.
Let cool slightly and then divide it into squares. Store in a jar.
Good to know when you change the number of servings
This recipe is made for 20 servings. When you change the number of servings will also change the number of ingredients. In some cases, this may result in the cooking time being adjusted.
Have a look at this video to learn the Brownie Recipe more efficiently. Click below to watch the video.
Helping Video about Brownie Recipe
Video by: Spice Bangla
Please give us your feedback about taste, recipe, and your own experience with brownies. Have a nice day with brownie and your family and if you want to learn some more recipes click here.