Introduction and Overview about Challah Recipe
Challah recipe is a traditional Jewish bread that is baked on the Sabbath and for all other Jewish holidays. The bread is sweet and eggy and can be cut into pieces and eaten as bread. Most people, however, don't know how to bake challah and that's why we decided to create this blog to show you how to make the perfect challah by using a Challah recipe..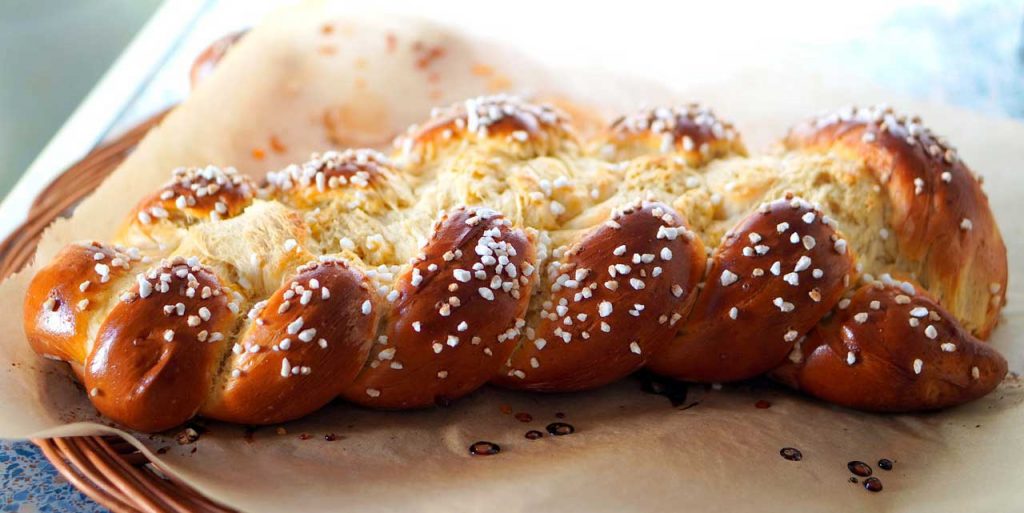 Rich Challah Recipe
---
Ingredients for Challah:
700 g. strength flour
2 teaspoons of salt
25 g. fresh baker's yeast or 7 freeze-dried yeast, for those who live outside of Spain it can be found in supermarkets such as easy-bake dried yeast
250 ml. of warm water
2 medium eggs at room temperature
3 tablespoons of honey
100 ml. sunflower oil
Sesame or sesame seeds and poppy (optional)
An egg for brushing
Equipment
Large bowl
Oiling Brush
Dough maker
Oven
Step by Step Instructions
In a bowl mix the flour with the salt and yeast and pour the warm water in the center and knead, you can do it in a robot with the hook or by hand, add the eggs, honey, and oil and work little by little, knead for 10 minutes and then let it rest another 5, repeat this operation until the dough is elastic.
Dump the dough on the lightly floured work table and knead for 10 minutes, it is important that the dough is firm enough to favor braiding, put the dough back in the bowl and cover it with plastic wrap, let it rest for an hour, no it is necessary to double its volume since if it rises too fast it will be more difficult to mold.
After the resting time, degas the dough in the bowl and transfer it to the work table, divide it into 3 portions if you feel like 4, form cylinders of about 40 cm. Join them at one end and start braiding, when you have finished join the ends and hide them underneath. Transfer the bread to the baking tray covered with baking paper.
Cover it with a cloth or a plastic bag that does not touch the bread, let it ferment for 40 minutes, brush the surface with beaten egg and sprinkle with the sesame seeds or sesame.
Preheat the oven to 220º C and bake for 10 minutes, then lower the temperature to 190º C and cook for another 30 minutes, remove from the oven when it has a dark golden color and let cool on a rack.
TIPS FOR CHALLAH BREAD
-Add sesame and poppy seeds, or just one of the two.
-You can also sprinkle with sliced ​​almonds, anise, or coriander.
-With these temperatures, the leavening is very fast, do not lose sight of the dough, because it rises immediately.
-Chalá is a sweet bread, but you can accompany it with other salty ingredients, such as cheese, olives,
-It's a good option for breakfast with a little butter.
Watch the YouTube video to see the traditional Challah recipe visually

That was the tasty and my favorite and Best Challah recipe. Try this at home today for your kids for breakfast. Do not forget to share your thoughts in the comments section below.