Introduction and Overview about Chicken Kiev Recipe
Chicken Kiev Recipe is a Ukrainian chicken recipe consisting of a paned chicken fillet filled with parsley garlic butter. This is fried in the oil and baked in the oven too. Serve with crispy potatoes and fresh salad. Now let's get started.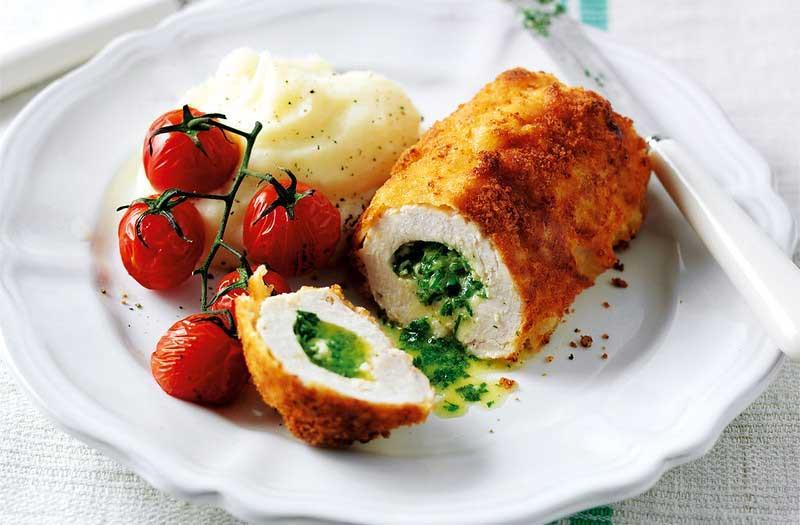 ---
Ingredients for Chicken Kiev:
1 garlic clove
50 grams of butter
2 tablespoons of chopped parsley
2 tablespoons of chives
1 lemon
Salt and pepper as per taste
4 chicken breast fillets
1 egg
100 grams of wheat flour
150 grams of bread crumbs
4 tablespoons of cooking oil
For Serving:
Roasted potatoes
Green salad
Equipment
Large and small bowl
Plastic sheet
Oven
Egg beater
Frying pan
Step by Step Instructions
Set the oven to 150 ° C.
Peel and grind the garlic clove fine. Mix butter with garlic and herbs. Flavor with salt, pepper, and a few drops of lemon juice.
Form 4 equal-sized pieces of the butter. Wrap them into a plastic sheet. (Each piece in a separate small piece of plastic). Place them into the freezer for about 20 minutes
Cut a pocket into the thick part of the chicken fillet, fill the bag with the butter, and season with some salt and pepper.
Beat up the egg. Flip chicken fillets first into flour, then eggs, and last in bread crumbs. Make sure the chicken pieces have been covered completely.
Heat the oil and sprinkle the chicken around in the oil. Cook each side for 1 minute.
Now put them in the oven for 15-20 minutes or until golden brown.
Serve with roasted potatoes and green salad. Congratulations, your Kiev Chicken is ready to eat. Enjoy this delicious Russian Chicken. Best for any occasion.
Watch the Chicken Kiev recipe YouTube video below by Chef John of Food Wishes.
Try this easy homemade chicken kiev recipe at your home and get appreciation and here are some health benefits of Chicken Kiev. Do not forget to write the comments in the comment section below. You can write your own version or variation in the comments section. Thanks.