Chocolate cherry ice cream
Introduction and Overview about Chocolate cherry ice cream Recipe
Chocolate cherry ice cream is a dessert made using chocolate, cherries, and vanilla ice cream. This dessert can be made in many ways.It is an ideal dessert that can be prepared during the summer season. Let's have a look at the chocolate cherry ice cream recipe.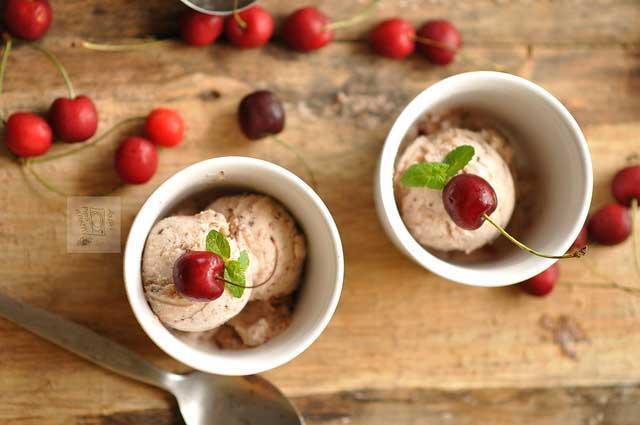 ---
Ingredients for ice cream:
150 g of skyr 0% fat (I bought it at Lidl) – you can use Greek yogurt, quark, smoothie fresh cheese, etc. as an alternative.
500 g of cherries without the seeds
some chocolates or chocolate chips
Equipment
Large bowl
Blender
Freezer
Step by Step Instructions
Wash and remove the pips from the cherries, put them in a bag, and freeze them horizontally, so that they can then be easily separated as if they were cubes. Freeze for 4 hours or overnight.

Pour the skyr into the blender or robot, the frozen cherries, and beat until a cream is formed with everything.
Pour the ice cream into a bowl and add the chocolate in pieces or nuggets. Freeze for a couple of hours and serve.
Conclusion:
This ice cream recipe is perfect to finish a summer meal, you can prepare it before eating and it will be ready to taste at the end of the meal. I have not added sugar, because the cherries already have enough by themselves, but if you consider that you want it sweeter, you can add whatever you want before mixing all the ingredients.
If you do not let the ice cream freeze for days in the refrigerator and you respect the times of the recipe that I indicate below, the texture will be smooth, like the cone ice cream that we buy in an ice cream parlor, but if you are going to consume it another day, remember to take it out of the freezer half an hour before or something like that for a better texture and easy to serve.
To keep it even lower in calories, you can skip the chocolate chips or replace them with another ingredient of your choice. The color is beautiful.
Watch the YouTube video to see the Dark Chocolate cherry ice cream recipe visually

Helping Video about ice cream Recipe
Vide by: Bake with Shivesh
That was the tasty and my favorite Chocolate cherry ice cream. Try this at home today for your kids. Do not forget to share your thoughts in the comments section below.