Introduction and Overview about Churros Recipe
Churros are a delicious Spanish fried dough pastry that can be enjoyed for breakfast, an afternoon snack or even dessert. Churros are traditionally served dusted with cinnamon sugar and filled with chocolate. You'll see them in Spain and Mexico and they're made all over the world. In this post, I am going to show the churros recipe. Let's get started.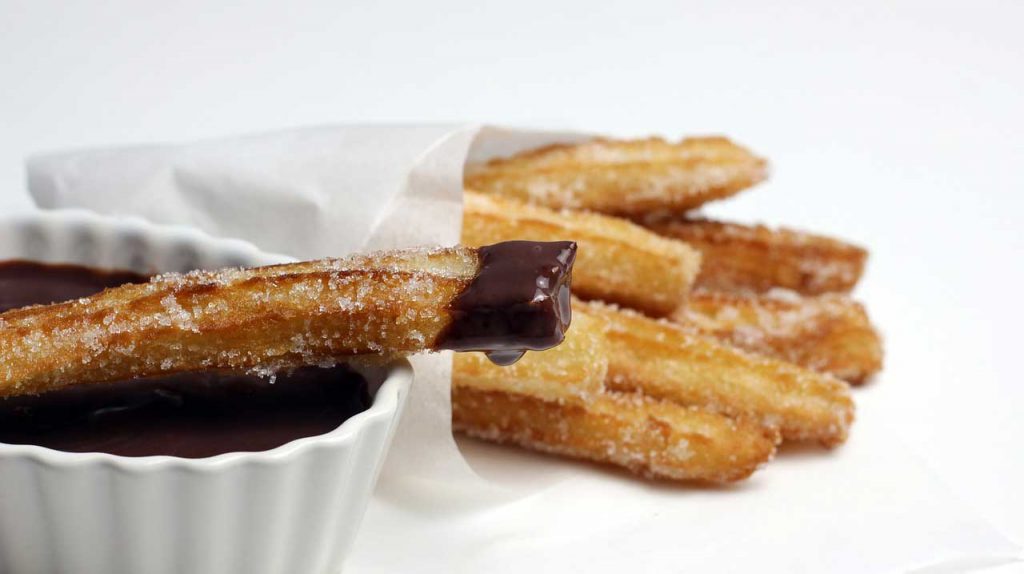 ---
Ingredients for Churros:
250 g. all-purpose wheat flour (can also be made with bakery flour)
250 g. of water
1 teaspoon of salt (8 grams approximately)
Sugar for dusting
Sunflower oil for frying (You can use mild olive oil for this as an alternate)
Absorbent kitchen paper
A manual churrera or a pastry bag with a fine mouth
Equipment
Large bowl
Saucepan
Wooden Spoon
Churrera
Star-shaped nozzle
Step by Step Instructions
Preparation of the dough for the churros
We put the flour in a large bowl. Heat the salt and water in a saucepan.
When it starts to boil we pour it directly and in one go over the flour. Mix the flour in the water with the help of a wooden spoon. Mix until we get a compact and sticky dough.
Now we are going to introduce this dough in a churrera or pastry bag. This step is essential so that the churros turn out well and you do not have problems with them when frying. This prevents the churros from jumping into the oil afterward, which is why it is a very important step. If you have a machine to make churros, you fill it with the dough. The best choice.
A star-shaped nozzle is the best alternate to churrera if you do not have it. Although it is not recommended, as they are not the same as with churrera. Still, there are people who have managed to make good churros with manga. The pastry bags can be made of disposable plastic. You can find them in pastry utensil stores or creative pastry online stores.
We are making the churros portions with the raw dough on a kitchen towel on the counter. In a way that the dough cools down and prevents it from opening or bursting during frying.
We put on the fire a pan with plenty of very mild olive oil or sunflower oil.
Frying and presentation of the homemade churros
When it is hot we introduce the portions of dough to fry. Before frying, measure the temperature of the oil (if possible), between 195º and 200º C for the churros or 230º C for the batons.
We cook over medium heat to prevent the churros from remaining raw inside.
If you are going to use a pastry bag to make the churros, be very careful when frying, they can jump. If you are going to use the churrera, it might be possible this will not happen to you.
Once fried, remove to a tray with kitchen paper to absorb the excess oil.
We serve sprinkled with white sugar or icing sugar (powdered).
With these premises, we can make our own churros at home to enjoy both a good breakfast and a Sunday snack.
Watch the YouTube video to see the Churros recipe visually

That was my favorite Churros recipe tasty and healthy. Try this at home today for your kids for breakfast. Do not forget to share your thoughts in the comments section below.