Flourless chocolate cake Recipe
Introduction and Overview about Flourless chocolate cake Recipe
Here is a flourless chocolate cake recipe that you can make in minutes in your microwave or in your oven. Since it is flourless and prepared in the microwave, it is low in calories and is a great dessert for your weight loss diet. It is also healthy with lots of healthy ingredients like eggs and cocoa powder. Flourless chocolate cake with eggs and cocoa powder is a balanced meal. Let's learn how to make flourless chocolate cake with cocoa powder at home.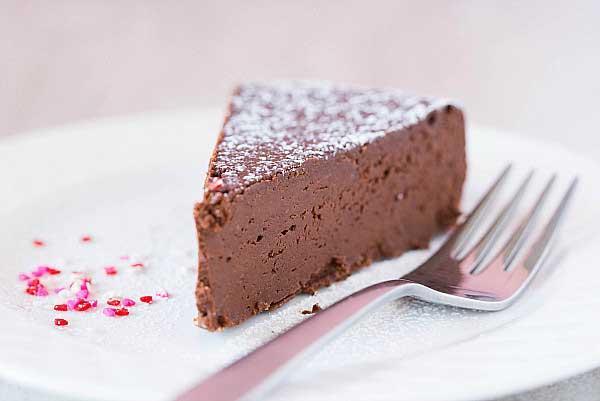 ---
Ingredients for Flourless chocolate cake:
200 g of creamy butter
225 g of black chocolate
250g sugar
6 eggs
One tbsp. of vanilla extract
80 g cocoa powder
Cocoa powder to decorate
Equipment
Large bowl
Food processsor
Egg beater
Oven
Step by Step Instructions
Heat the oven to 180º C. and cover the bottom of the mold with greaseproof paper. Then we spray the sides with non-stick spray.
Melt butter and chocolate to the bain-marie, and mix with a rod until well incorporated.
Remove from the fire, we passed a food processor and let stand for five minutes to lose heat.
Add the sugar, mix a little and add the eggs one by one. Finally, we add the vanilla and cocoa powder and mix until we have a homogeneous mixture.
We pour the dough into the mold and bake between 35 and 45 minutes, or until a skewer comes out clean when you pierce the center of the cake.
Remove from the oven and let it warm for 15 minutes before unmolding it and letting it cool completely on a rack
To decorate it, we put cocoa powder in a colander and sprinkle it all over the surface.
We move the cake carefully to a stand with the help of an elevator and serve it immediately
We recommend you present this flourless chocolate cake accompanied by whipped cream and also enjoy it with the liquor that you like the most, or with a delicious cup of coffee, we leave that to your liking.
Watch the YouTube video to see the Flourless chocolate cake recipe visually

Helping Video about Flourless chocolate cake Recipe
Video by: Preppy Kitchen
That was the tasty and Best Flourless chocolate cake recipe. Try this at home today for your kids. Do not forget to share your thoughts in the comments section below.