Introduction and Overview about Mohinga Recipe
Mohinga Recipe is a traditional Recipe of Myanmar (Burma). A kind of fish broth made of rice noodles and fish with spices and chilies is served with fish, fried onions, and condiments. Mohinga soup is considered the national dish of Myanmar and is popular throughout Southeast Asia. It is also considered the national dish of Singapore. Let's have a look at this mohinga recipe.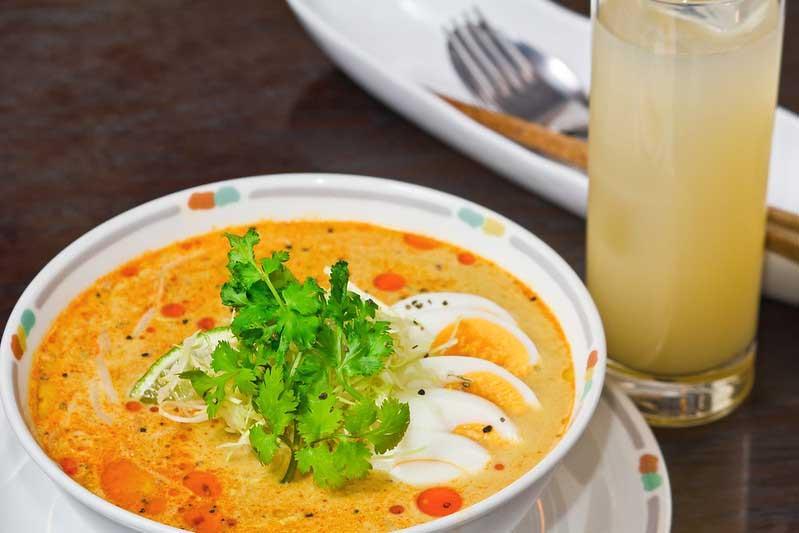 ---
Ingredients for Mohinga:
mohinga Ingredients
3 tablespoons oil
4 garlic cloves, crushed
3 cm freshly grated ginger
1 stalk of lemongrass
1 teaspoon chili powder
1 teaspoon turmeric
Water as needed
90 ml fish sauce
2 small onions
4 tablespoons of toasted rice flour mixed with a little cold water
450 g of sea bream
450 g fine rice noodles
Accompaniments:
boiled egg
sauteed lotus root with soy
onion pakora
fresh coriander
Ingredients to make the pakoras:
2 medium to large onions
1 cup chickpea flour
1 to 2 teaspoons green chilies or ½ teaspoon chili powder
1 tablespoon chopped coriander leaves – optional
½ teaspoon garam masala powder – optional
¼ teaspoon turmeric powder
oil for frying
water as needed to make a medium thick batter
salt as needed
Equipment
Large and small bowl
Frying pan
Large skillet
Knife
Step by Step Instructions
To make the soup:
Heat the oil in a large saucepan, add the grated onion, garlic, ginger, lemongrass, chili powder, and turmeric, cook for a few minutes over medium heat, stirring, until it releases all its smell.
Next, add the water, fish sauce, quartered onion, and toasted rice flour mixture.
Mix well and bring to a boil, it is important to stir well to prevent lumps from forming.
Once the soup has thickened, reduce the heat and simmer for 20 minutes.
Cut the fish into pieces and add it to the soup. Mix well and continue cooking for 10 more minutes.
Meanwhile, bring a large saucepan of water to a boil, add the noodles, and cook for about 5 minutes or until tender. Drain well.
To make the pakoras:
Cut the onions into thin slices and place them in a bowl. Also the chopped green chilies.
If you don't have green chilies, add chili powder. Also the chopped coriander leaves.
Add turmeric and salt. Mix everything well, cover, and let it rest for 15 minutes.
During that time the onions will release the water needed to mix the flour.
We add chickpea flour to the onion. If we see that the water in the onions is not enough for the flour mixture to remaining with the desired consistency, we will add a little more water, but ideally, it should be a little thick so that the onion is compacted when added to the oil.
Once we have the dough ready, we will begin to fry. We add a tablespoon of dough per pakora.
Depending on the size of the pan, we can add more or less dough, but the idea is to make them two by two so that they are fried correctly.
When they are browned on one side, turn them over with a slotted spoon and continue frying.
You will have to turn them a couple of times so that they brown well. It has to be crisp and golden.
Remove with a slotted spoon and drain on kitchen paper to absorb excess oil.
We will serve the soup in bowls along with the noodles and side ingredients.
Watch the YouTube video to see the Mohinga recipe visually

Helping Video about Mohinga Recipe
(Click the red icon below to start the video)
That was the tasty and my favorite Mohinga recipe. Try this at home today for your kids for breakfast. Do not forget to share your thoughts in the comments section below.
You may also like the recipes from these categories