Introduction and Overview about Russian Blini Recipe
Blini is a tasty Russian pancake. So, we are going to share a tasty Russian Blini Recipe here. It is folded to fill with a filling of your choice. It is a famous Russian dish, that is being eaten at festivals. You can fill it with minced meat, fried cabbage, mushrooms, smoked salmon, and cottage cheese as well. Let's get started.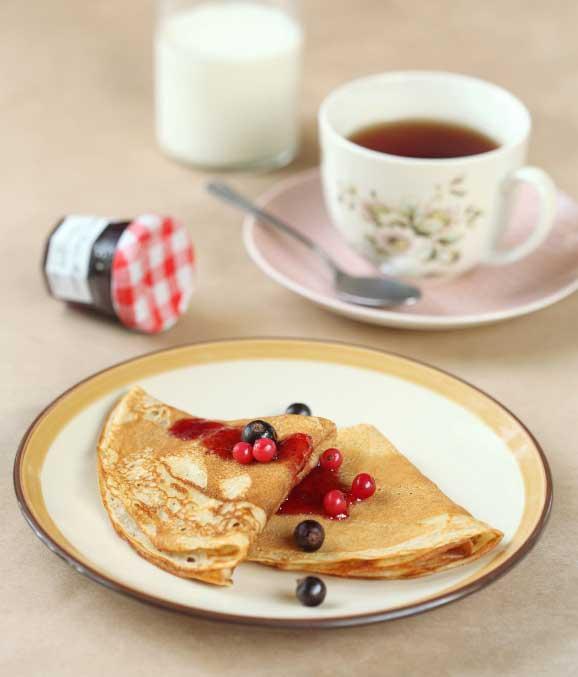 ---
Ingredients for Russian Blini Recipe:
1-1/4 cups of milk
5 eggs
1/3 teaspoon of salt
2 tablespoons of white sugar
Half teaspoon of baking soda
1/8 teaspoon of citric acid powder
4 cups of all-purpose flour
3 tablespoons of vegetable oil
1 cup of boiling water
2/3 cup of butter (divided)
Equipment
Medium bowl
Egg beater
Small frying pan
Step by Step Instructions:
Step 1
In a medium bowl, mix the eggs and milk together. Beat them very well. Now add the sugar, salt, baking soda, and citric acid and stir the mixture.
Step 2
Blend the mixture into the flour and add vegetable oil. Now add this into the boiling water, stirring continuously. You need a thin batter. It should be very thin, almost watery. Now let it rest for almost twenty minutes.
Step 3
Now take a small frying pan and add 1 tablespoon of butter to it. Melt over medium-high heat. Pick your pan up from the heat and pour a small amount of batter. Don't forget to rotate your wrist constantly. Rotation can make blini as thin as we need. Keep rotating and make a circle on the bottom of the pan.
Step 4
Put the pan to heat again for the next 90 seconds to cook the blini. Lift the blini up from one side to check if it has been cooked properly or not. If you see the brown spots on its surface, it's time to flip it. Flip it and cook the other side for 90 seconds to 100 seconds.
Step 5
Shift your blini into the plate. That was the first one. Continue making blinis one after the other. Add an additional tablespoon of butter when needed.
Step 6
Tip: After transferring them to the plate, cover the blinis with a kitchen towel to keep them warm.
Step 7
Sprinkle your preferred filling, fold the blini to make a triangle. All sides can be folded to make it the shape of a burrito.
Watch the YouTube video below for a simple and traditional Blini recipe.
Helping Video about Russian Blini Recipe
(Click the red icon below to start the video)
That was awesome & simple? Please share your own experience with cooking blini. Make it today at your home and do not forget to share your experience in the comments section below. Write your own variation in the comments. Thanks…