Introduction and Overview about Russian Blini Recipe
Blini is a tasty Thin Russian pancake. So, we are going to share a tasty Russian Blini Recipe here. It is folded to fill with a filling of your choice. It is a famous Russian dish, that is being eaten at festivals. You can fill it with minced meat, fried cabbage, mushrooms, smoked salmon, and cottage cheese as well. Let's get started.v
| | |
| --- | --- |
| Prep time: 15 min | Resting time: 20 min |
| Cooking time: 25 min | Total time: 60 min |
| Serving: 8 | Course: Breakfast, Brunch |
| Cuisine: Russian | Calories: 525 cal |
Ingredients for Russian Blini Recipe :
1-1/4 cups of milk
5 eggs
1/3 teaspoon of salt
2 tablespoons of white sugar
Half teaspoon of baking soda
1/8 teaspoon of citric acid powder
4 cups of all-purpose flour
3 tablespoons of vegetable oil
1 cup of boiling water
2/3 cup of butter (divided)
Equipment:
Medium bowl
Egg beater
Small frying pan
Step by Step Instructions
Step 1
In a medium bowl, mix the eggs and milk together. Beat them very well. Now add the sugar, salt, baking soda, and citric acid and stir the mixture.
Step 2
Blend the mixture into the flour and add vegetable oil. Now add this into the boiling water, stirring continuously. You need a thin batter. It should be very thin, almost watery. Now let it rest for almost twenty minutes.
Step 3
Now take a small frying pan and add 1 tablespoon of butter to it. Melt over medium-high heat. Pick your pan up from the heat and pour a small amount of batter. Don't forget to rotate your wrist constantly. Rotation can make blini as thin as we need. Keep rotating and make a circle on the bottom of the pan.
Step 4
Put the pan to heat again for the next 90 seconds to cook the blini. Lift the blini up from one side to check if it has been cooked properly or not. If you see the brown spots on its surface, it's time to flip it. Flip it and cook the other side for 90 seconds to 100 seconds.
Step 5
Shift your blini into the plate. That was the first one. Continue making blinis one after the other. Add an additional tablespoon of butter when needed.
Step 6
Tip: After transferring them to the plate, cover the blinis with a kitchen towel to keep them warm.
Step 7
Sprinkle your preferred filling, fold the blini to make a triangle. All sides can be folded to make it the shape of a burrito.
Russian Blini Image Gallery
Watch the YouTube video to see the Russian Blini recipe visually
Helping Video for Russian Blini Recipe
(Click the red icon below to start the video)
So, that's it for today. It is a nice and savory breakfast dish from Russian crepe cake for kids and older ones too.
---
Blinchiki crepes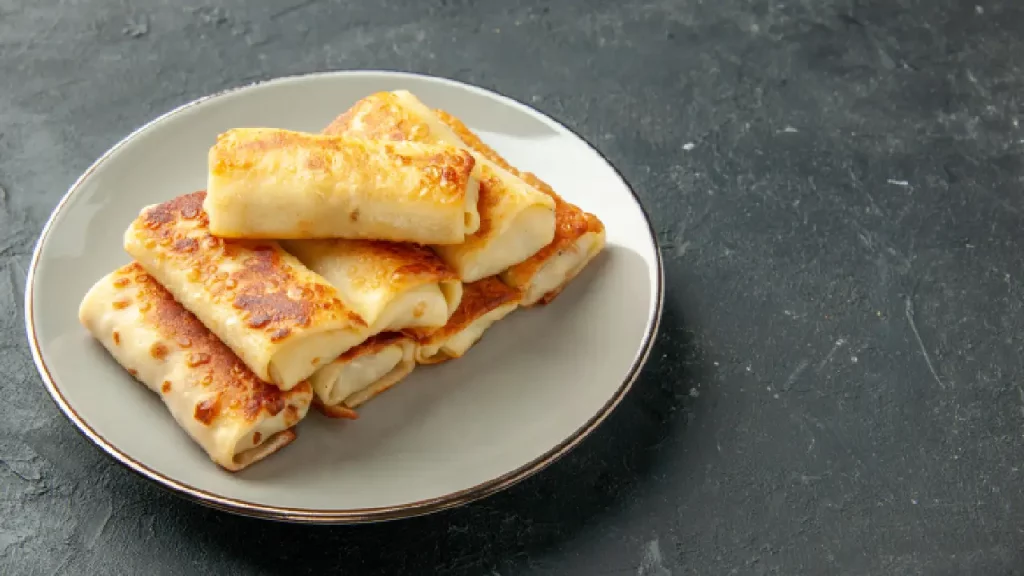 Ingredients:
500 grams of ground meat
1/2 onion, minced
2 garlic cloves, minced
1 sprig of cilantro
Dough
1 egg
Salt and pepper
1 and a half glasses of mineral water
200 grams of flour
2 tablespoons of olive oil
1 teaspoon of sweetened condensed milk
(Mix everything together using a blender)
Preparation method:
Step 1
Put water in a saucepan and add a little salt. When it's hot, add the ground meat and let it simmer for about 15 minutes.
Step 2
Drain the meat and save about 100 ml of the cooking water.
Step 3
Heat oil in a frying pan and add the minced onion and garlic. Cook until they brown a little, then add the drained meat. Sauté for a few minutes.
Step 4
Pour in the reserved cooking broth and let it cook. Add the chopped cilantro.
For the dough:
Step 1
In a blender, combine the egg, water, salt, and pepper. Blend them together.
Step 2
Add the flour gradually, blending after each addition, until you have a light dough.
Step 3
When the meat has cooled down, blend it with a blender or food processor until you get a thick puree.
Step 4
Grease a pan with oil and place a plate next to it with some sliced potatoes and oil for greasing the pan while making the blinchiki.
Step 5
Make the blinchiki one by one until the dough is finished (you will get about 10-12 blinchiki crepes).
Step 6
Roll out a blinchik, fill it with a tablespoon of meat, and roll it up, tucking in the edges. Repeat until all the meat is used.
Step 7
Heat a frying pan with half a tablespoon of oil and cook the filled blinchiki until they are browned on both sides. Serve.
---
French blini recipe
Ingredients:
1 cup all-purpose flour
1 teaspoon instant yeast
1 cup warm milk
1 large egg
2 tablespoons melted butter
1/2 teaspoon salt
Cooking oil for frying
Preparation method:
Step 1
In a big bowl, mix the flour, yeast, and salt.
Step 2
Make a hole in the middle of the dry ingredients and pour in the warm milk. Gradually whisk the milk into the flour until the mixture becomes smooth.
Step 3
Add the egg and melted butter to the batter and whisk everything together until well combined. The batter should be smooth without any lumps.
Step 4
Cover the bowl with a clean kitchen towel and let the batter sit in a warm place for about 1 hour, or until it doubles in size.
Step 5
Heat a non-stick skillet or griddle on medium heat and lightly grease it with cooking oil.
Step 6
Once the skillet is hot, drop small spoonfuls of the batter onto the skillet, making each blini about 2 to 3 inches in diameter. Leave some space between them so they can spread.
Step 7
Cook the blinis for about 2 minutes, or until bubbles start to form on the surface. Gently flip them with a spatula and cook for another 1 to 2 minutes, until both sides turn golden brown.
Step 8
Transfer the cooked blinis to a plate and cover them with a kitchen towel to keep them warm while you cook the remaining batter.
Step 9
Repeat the process with the rest of the batter until you've cooked all the blinis. And voilà, with this authentic French blini recipe, you'll have a delectable and irresistible treat that will leave your taste buds dancing with delight! Bon appétit!
Step 10
Serve the blinis while they're still warm and top them with your favorite toppings, like smoked salmon, sour cream, caviar, or fresh herbs. You can also try sweet toppings like fruit preserves or Nutella. Enjoy your homemade French blinis!
---
Buckwheat blini recipe
Introduction :
Welcome to a culinary journey inspired by the rich flavors of Russia! Today, we invite you to indulge in a delightful dish that combines tradition and sophistication: Russian Buckwheat Pancakes, also known as Buckwheat Blini. These thin and delicate pancakes, made with the finest buckwheat flour, are a staple in Russian cuisine, celebrated for their unique texture and earthy taste. In this recipe, we will guide you to a buckwheat blini recipe from scratch, allowing you to experience the true essence of Russian culinary heritage. So, gather your ingredients, embrace the spirit of Russian cuisine, and let's embark on a culinary adventure filled with fragrant aromas and mouthwatering flavors.
Ingredients:
100 grams of buckwheat flour
100 grams of cooked Santa Pau beans
2 grams of chemical yeast (Royal)
1 gram of salt
2 dl. extra virgin olive oil
1 gram of pepper
1 egg
100 grams of tapioca pearls (cooked with the water from boiling the beans and seasoned with olive oil)
Preparation method:
Step 1
Blend the cooked beans in a blender until you get a smooth puree.
Step 2
Add the egg, salt, pepper, yeast, and buckwheat flour to the blender and blend everything together.
Step 3
Transfer the mixture to a bottle.
Step 4
Heat a non-stick pan and add a little olive oil.
Step 5
Pour the mixture from the bottle onto the pan to make small pancakes (blinis). Cook them until they turn golden brown on both sides.
Step 6
Once the blinis and Santa Pau beans are cooked, place them on paper towels to remove any excess oil.
Step 7
Arrange the hot buckwheat blini on a plate.
Step 8
Serve the cooked tapioca pearls on top of the blinis. Make sure the pearls are cold and season them with olive oil and a bit of salt.
Step 9
To complete your recipe, elegantly top the delicate thin buckwheat pancakes with caviar or combines buckwheat blinis with Santa Pau beans and tapioca pearls to create a delicious dish.
---
Sourdough blini recipe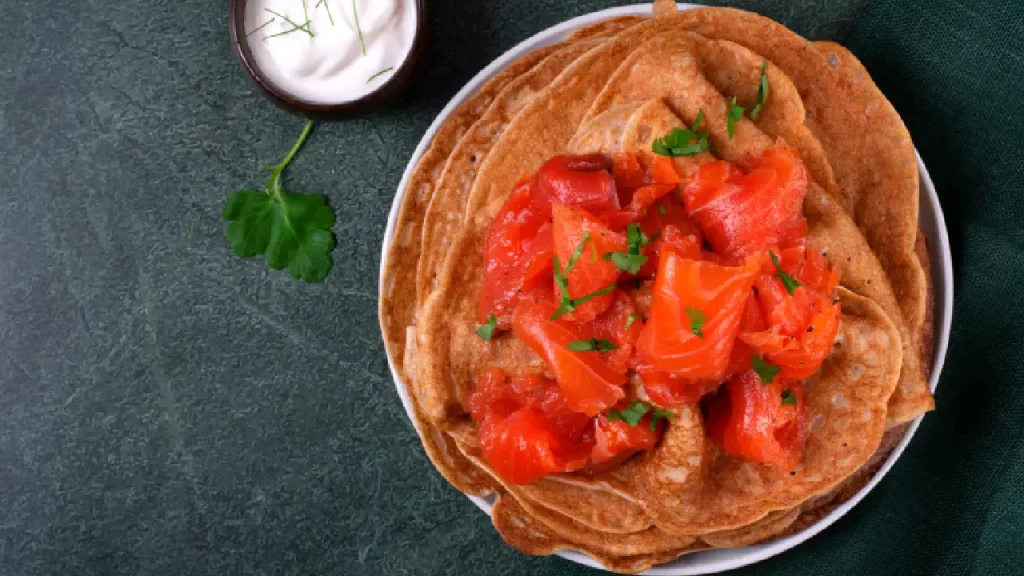 Ingredients:
1 cup of sourdough starter (it can be slightly inactive)
3 tablespoons of warm water
1 small container of natural yogurt
1 large egg + 1 egg white
3/4 cup of all-purpose flour
1/2 teaspoon of salt
1 teaspoon of baking soda
Sunflower oil for greasing the pan
Preparation method:
Step 1
In a bowl, mix the sourdough starter with the warm water until well combined.
Step 2
Add the natural yogurt and mix until the dough becomes smooth.
Step 3
Separate the egg white from the yolk. Add the yolk to the dough mixture and mix well. Then add the flour, salt, and baking soda.
Step 4
Stir everything together until well combined. Let the dough rest if you're not using it immediately.
Step 5
When you're ready to cook the blinis, beat the egg white until it forms stiff peaks. Gently fold one-third of the beaten egg white into the dough to make it lighter.
Step 6
Carefully fold in the remaining beaten egg white, being careful not to deflate it.
Step 7
Heat a frying pan or non-stick pan and lightly grease it with sunflower oil. Spoon about 2 tablespoons of batter onto the pan for each blini.
Step 8
Cook the blinis over low heat for 3 to 4 minutes until bubbles form on the surface. Flip them over and cook for another 2 to 3 minutes until both sides are golden brown.
Step 9
Once cooked, transfer the blinis to a wire rack to cool. Repeat the process with the remaining dough.
To serve sourdough blini, you can warm the blinis in the oven at a low temperature or toast them. They can be enjoyed as a base for canapés with various toppings like foie gras, tarama, or seaweed tartare. They also make a delicious breakfast option when served with jam or honey. Another tasty idea is to have them with a salad of endives dressed with cider vinegar.