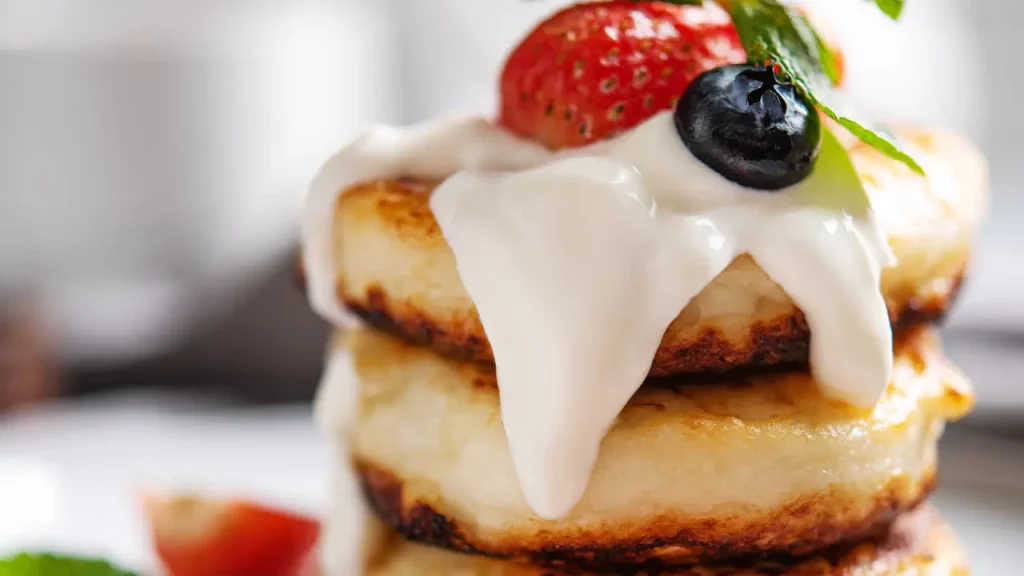 Introduction and Overview about Russian Syrniki EASY Recipe
We are presenting an easy and traditional Russian syrniki recipe in this post. It is also called Russia Cheese Pancake. It is famous in Russian and Ukraine as well. It is usually eaten with sweet dressing, jam, or honey. It is a perfect breakfast for all ages. Lets' get started with our easy syrniki recipe.
| | |
| --- | --- |
| Prep time: 10 min | Resting time: 0 min |
| Cooking time: 20 min | Total time: 30 min |
| Serving: 5 | Course: Breakfast |
| Cuisine: Russian | Calories:2260 cal |
Syrniki Ingredients :
4 eggs
3 tablespoon of sugar
1 teaspoon of white vinegar
1 cup of raisins (optional)
1 teaspoon of baking soda
2 to 3 tablespoons of extra light olive oil (for each batch)
A pinch of salt (or as per taste)
¾ cup of all-purpose flour
Half cup of all-purpose flour (for dredging)
2 cups of relatively fat and grainy cottage cheese (It is called farmer's cheese, tvorog and quark too)
For toppings:
Powdered sugar, sour cream, jam, or fresh fruits. (It is optional, you can use whatever you want to use)
Equipment:
Large and small bowl
Electric mixer (or hand mixer if you don't have electric one)
Large skillet
Step by Step Instructions
Step 1
First of all, mix eggs, salt, sugar, cheese, and ¾ cup of flour in a large bowl.
Step 2
Then take a small bowl and add baking soda and vinegar to it. Mix it very well. After mixing, add it into the cheese mixture.
Step 3
Then use an electric mixer to mix it. Mix it for 4 to 5 minutes. You can use a hand mixer if you do not have an electric mixer. Then add the raisins and stir. Try to remove all the cheese clumps, but if you fail to remove all of them, leave it and move to the next step.
Step 4
After that, take a large skillet and heat it over medium heat. Add 2 to 3 tablespoons of extra light olive oil.
Step 5
Then take a small bowl and add half a cup of flour to it. And add a heaping tablespoon of cheese mixture into the flour. Now sprinkle a little bit of flour on the cheese mixture. Then mold it into a cutlet shape and remove excess flour. Make Syrniki of the remaining material.
Step 6
When the olive oil becomes hot in the skillet, start placing Syrnikis one by one into the hot oil. After placing them, cook each side for about 3 to 4 minutes or until golden brown.
Step 7
Your Syrinki is ready to serve. Place them into a plate and serve with powdered sugar, sour cream, or fruits. Enjoy it.
Syrniki Image Gallery
Watch the YouTube video to see the recipe for Russian Syrniki visually
This video is made by AllasYummyFood YouTube Channel.
Helping Video for Russian Syrniki Recipe
(Click the red icon below to start the video)
So, that's it for today. It is a nice and savory breakfast dish from Russian cuisine for kids and older ones too.