Introduction and Overview of Soda Bread Recipe
There is something about soda bread that makes it one of the most delicious Irish foods. It is also called Irish soda bread and is a type of quick bread. It is a very basic and, hence, easy recipe to follow. It was made popular during the Great Famine in Ireland and is quite popular among the Irish. This is a basic soda bread recipe that I use to make at home. It is also an easy recipe and can be used to bake delicious Irish soda bread at home.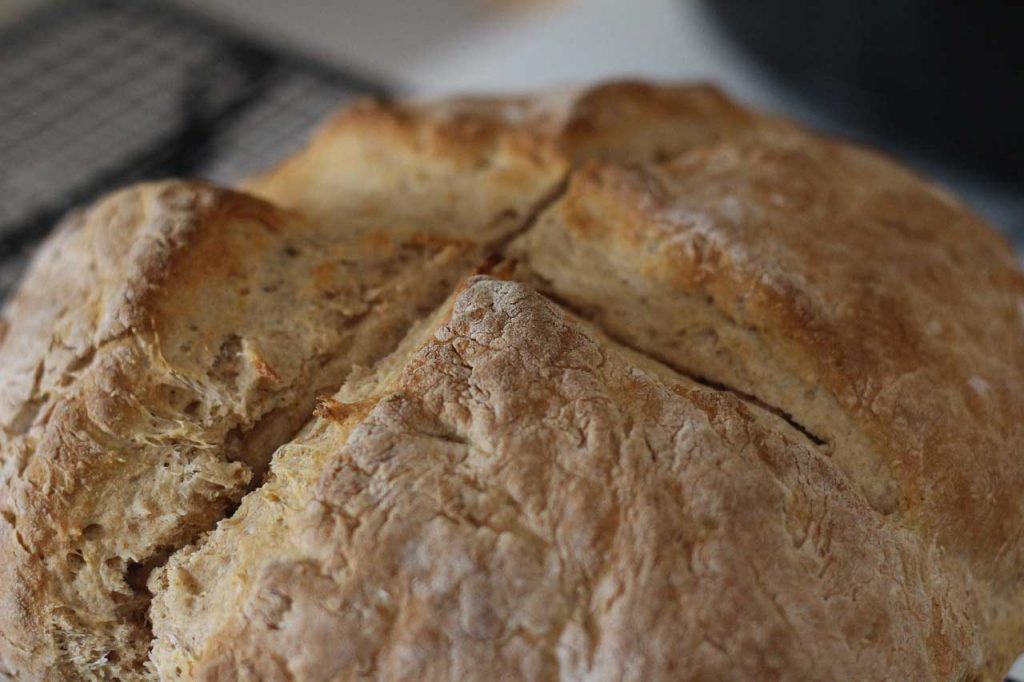 ---
Ingredients for Soda Bread:
500 g flour
1 pinch of salt
2 tablespoons sugar
1 teaspoon baking soda
100 g candied fruit (orange and lemon)
100 g currants
50 g dried apricots
400 mL buttermilk
Equipment
Large bowl
Baking tray
Wooden spoon
Oven
Step by Step Instructions
Preheat the oven to 220 ºC and line a baking tray with parchment paper.
In a bowl, mix the flour, salt, sugar, baking soda, and fruit.
Create a volcano in the center and add the buttermilk in the center.
Mix all the ingredients with a wooden spoon.
Pour the dough out onto a smooth surface and roll it into a ball. You don't have to knead it, just compact it all a bit.
Transfer the dough of the sweet soda bread onto the baking tray and with the help of a knife make 4 shallow cuts or marks, forming 8 triangles.
Bake the sweet Irish bread for 30 minutes.
When the bread is baked, remove it and let it rest on a wire rack for 15 minutes.
To serve it, just stretch one of the triangles and enjoy this soda bread with a little butter.
Tips:
If you don't have buttermilk, you can make it at home instantly. Mix 400 mL of milk with the juice of half a lemon and let it rest for 5 minutes.
The best way to taste this sweet soda bread is with a little butter.
Watch the YouTube video to see the moist irish soda bread recipe visually

That was the tasty and my favorite traditional irish soda bread recipe. Try this at home today for your family. Do not forget to share your thoughts in the comments section below.