Introduction and Overview about Sourdough Bread Recipe
Baking your own bread is rewarding in a number of ways. It saves you money, helps you learn a new skill and it tastes great. In my blog, I will be looking at the different aspects of making bread from the basics of what you need to get started, to get the correct yeast and flour. I will be covering the sourdough bread recipe in this post. So, let's get started.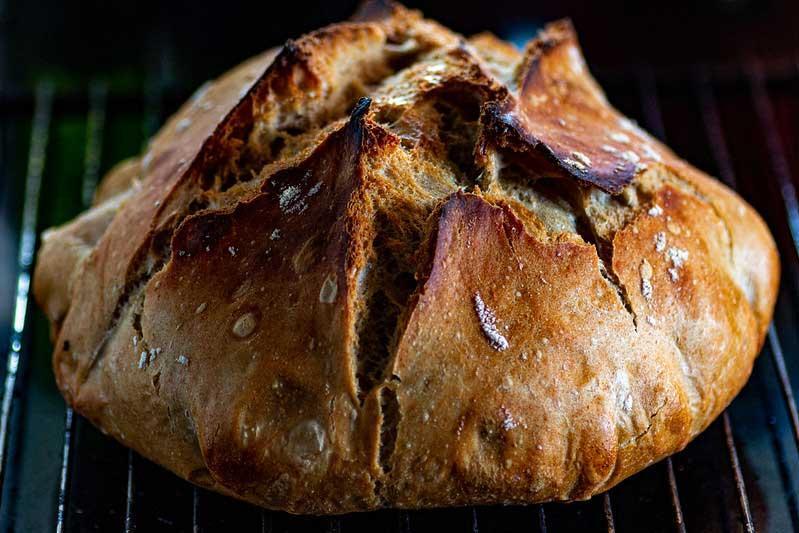 Total Time
13 Hrs 40 Mins
---
Ingredients for Sourdough Bread:
200 grams of natural sourdough
100 grams of water
200 grams of common flour
100 grams of bread flour
8 grams of salt.
Equipment
Large bowl
Dough maker
Oven
Step by Step Instructions
We started to make this recipe the night before to proceed with the preparation of bread in the morning or at noon, and thus give it rest all night after taking the sourdough out of the fridge, you have to wake up well fed.
Remove 200 grams of sourdough from the jar and put it in a bowl, feed the sourdough by adding 100 grams of flour (it can be strong or normal) and 100 grams of water, and put it back in the fridge tightly closed. You already know that you have to refresh it once a week.
Add to the bowl the sourdough, the loose flour, the flour, the water, and the salt. Mix with a soft baker's scraper (or with a spatula) until all the ingredients are combined, no need to knead. Cover the bowl with a clean kitchen cloth (without fabric softener) and leave it overnight at a temperature of about 19-21º C, in a place without a draft.
In the morning, the dough will have grown, doubling its volume, in addition, you will see that it will seem that it will have kneaded by itself, but we are not going to make bread without kneading, then dump the dough on the lightly floured work table and knead until about 8 -10 minutes, then form a ball and place it in a bowl covered with a clean kitchen towel, ideal if it is made of linen so that it does not lose anything, and sprinkled with flour. Cover the bowl with the bread dough with a cloth and leave it at a temperature of about 24º C until it doubles in volume, it may take between one and three hours.
Turn the oven to 220-250º C with heat up and down, leave the tray inside to heat it (or the baking stone if you have it), and prepare a container with water that you will place in the oven with the bread to generate steam and promote the creation of a crispy crust.
When the oven is at the desired temperature and the dough is ready, put it on the hot tray covered with greaseproof paper or similar, place it in the oven (with the water container, or by pouring water into a tray located under the bread tray) Fy program 30 minutes. If your oven reaches 250º C when 15 minutes have passed, lower the temperature to 220º C. After 30 minutes check how the bread is doing, if it is very golden, you can cover it with vegetable paper or aluminum and continue cooking for about 10 minutes. more, although the baking time may vary depending on your oven.
You will see that the dough has grown in the oven and that when you hit the crust with your knuckles it sounds crunchy. Remove the bread from the oven and let it cool on a wire rack. Bring it to your nose (if necessary) to smell good bread, but wait for it to cool before cutting.
Watch the YouTube video to see the basic Sourdough Bread recipe visually

Helping Video about Artisan Sourdough Bread Recipe
Video by: Tasty
That was the tasty and my favorite and classic Sourdough Bread Recipe. Try this at home today for your family. Do not forget to share your thoughts in the comments section below.