Introduction and Overview about Tabbouleh Salad Recipe
Tabouleh is an Arabic salad with a lot of parsley flavored with onions, chopped tomatoes, and a little bulgur (cracked wheat). This is a simple appetizer from Arabic cuisine and is drizzled with olive oil and fresh lemon juice. Green and tasty salad that goes well with grilled or on a buffet. Let's have a look at its easy recipe.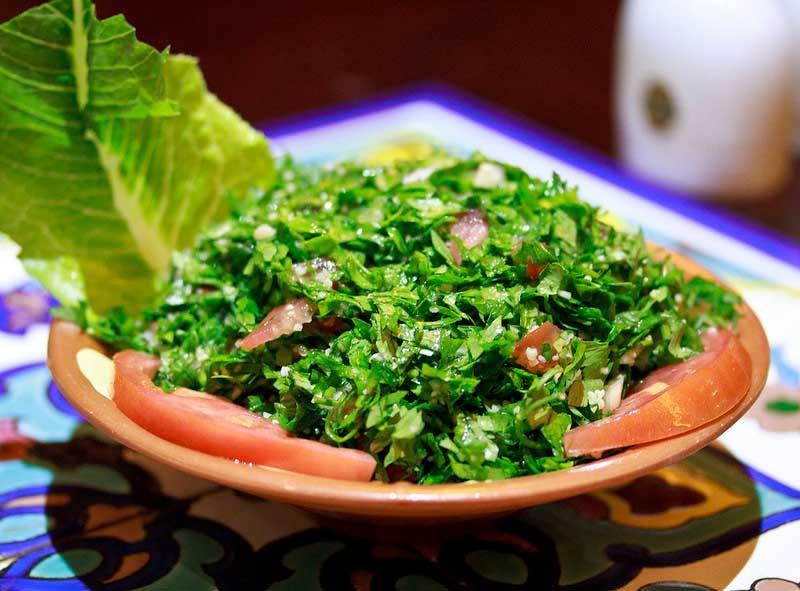 ---
Tabbouleh Ingredients :
500 g parsley leaves
1 cup bulgur
1 onion
3 tomatoes
3/4 cup freshly squeezed lemon juice
1 cup olive oil
1 tsp salt
2 pinches of pepper
Equipment
Large and small bowl
Cutting board
vegetable chopper
knife
knife sharpner
Step by Step Instructions
Boil the bulgur first. Add bulgur in two cups of cold water and bring to a boil. Cover the lid and simmer for approximately 15 minutes or until tender. Drain the excess water and let it cool.
Cut off the thick stalks of parsley and finely chop the rest. Peel and finely chop the onion. Dice the tomatoes.
Mix all ingredients with bulgur. Season with salt and pepper and your tasty tabouleh salad is ready to eat.
Note:
This Tabouleh recipe will make the salad for 4 servings. If you need to increase or decrease the number of servings, you'll have to change the number of ingredients. In some cases, cooking time is needed to be adjusted.
Benefits of Tabouleh salad recipe
Watch the video below to visualize the Easy Tabouleh recipe.
Helping Video about Tabbouleh Salad Recipe
(Click the red icon below to start the video)
Please, give your feedback about this Tabouleh recipe in the comments section below and if you like the recipe please try another delicious salad recipe.
---
Honey Chicken with Tabouleh (Tabouleh Chicken Recipe)
A tasty and easy-to-make recipe for honey chicken with Tabouleh. You can make this by including chicken fillet, soy sauce, honey, bulgur, tomato, pepper, lemon, feta, and chickpeas. Appealing and delicious!
Serves 4
Ingredients:
CHICKEN:
4 tablespoons of honey
4 tablespoons soy sauce
1 tablespoon fresh lemon juice
1 teaspoon salt
900 g of chicken fillets
SALAD:
400 grams of black eye beans
400 grams of chickpeas
2 dl bulgur (200 ml)
1 teaspoon of finely grated lemon peel
3 tablespoons fresh lemon juice
250 grams cherry tomatoes
1 green pepper
Half cup of chopped parsley
Half cup of finely cut dill (optional)
Sugar 1 teaspoon
3 tablespoons cooking oil
Half teaspoon of salt
150-gram feta
Directions:
CHICKEN:
1: In a large bowl, mix chicken, salt, soy sauce, honey, and lemon juice. Mix them very well. Let it marinate for 30 to 40 minutes (preferably overnight). Don't forget to cover it with baking paper. Placing in over is recommended.
2: Preheat oven to 225 °C.
3: Cook your chicken in the oven for about 30 minutes. Your chicken is ready. Now move towards tabouleh salad.
SALAD:
1: Boil bulgur according to the package instructions.
2: Cut the tomatoes into medium pieces. Share, core, and cut the pepper into small cubes.
3: Rinse and drain beans and chickpeas.
4: Mix the lemon zest, lemon juice, sugar, oil, and salt in a bowl. Add feta cheese, parsley, dill, tomatoes, peppers, black eye beans, chickpeas, and bulgur. Fold in all of the ingredients. Mix them very well and serve with chicken.
You may also like the recipes from these categories