Introduction and Overview about Tahini Recipe
Arabic Tahini is a brilliant sauce (dip) that can be used in other oriental dishes. Tahini consists of roasted sesame seeds, lemon juice, and olive oil mixed together and becomes a paste. The simple, delicious, and healthy sauce can be made at home. It is necessary for Hummus sauce.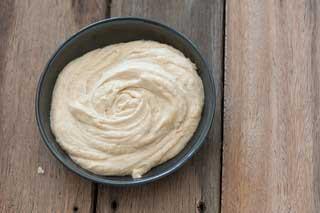 ---
Ingredients for Best Tahini Recipe:
3 tablespoons sesame seeds
1 tablespoon water
1 teaspoon freshly squeezed lemon juice
2 tablespoons light olive oil
1/2 tsp salt
Equipment
Small bowl
Food processor
Step by Step Instructions
Toast the sesame seeds lightly in a medium hot skillet.
Mix the toasted seeds in a food processor very well.
Now add the water and lemon juice and mix for about 30 seconds. Add the oil, and salt and mix to a smooth paste. Check its consistency. The goal is pourable, but a little bit thick sauce. You can add more oil or water until the desired consistency.
Your Tahini is ready to eat.
Tip:
This Best Tahini recipe can make ¾ cup of tahini sauce. If you want to change the number of servings, you can change the number of ingredients.
Watch the video below for Home Made Tahini Recipe Ideas.
Helping Video about Home Made Tahini Recipe
Video by: Inspired Taste
Write your comments about this Best recipe in the comments section below and give us more suggestions about Tahini recipe ideas