Introduction and Overview of Apple Pie Recipe
An easy and simple apple pie that can make the best and saturating apple with a crunchy cover and a lovely filling of apples and cinnamon. Baked pie suits all occasions. Apple pie can be served with vanilla sauce or ice cream. Although apple pie has its own variation with the different locations on the globe. Click here to see its different variations. Most of the food cultures in Europe have their own type of recipe. We are sharing the apple pie recipe from American cuisine. So, let's have a look at its ingredients first.
| | |
| --- | --- |
| Prep time: 10 Mins | Resting time: 0 Mins |
| Cooking time: 30 Mins | Total time: 40 Mins |
| Serving: 3 | Course: Breakfast |
| Cuisine: American | Calories: 1330 cal |
Apple pie recipe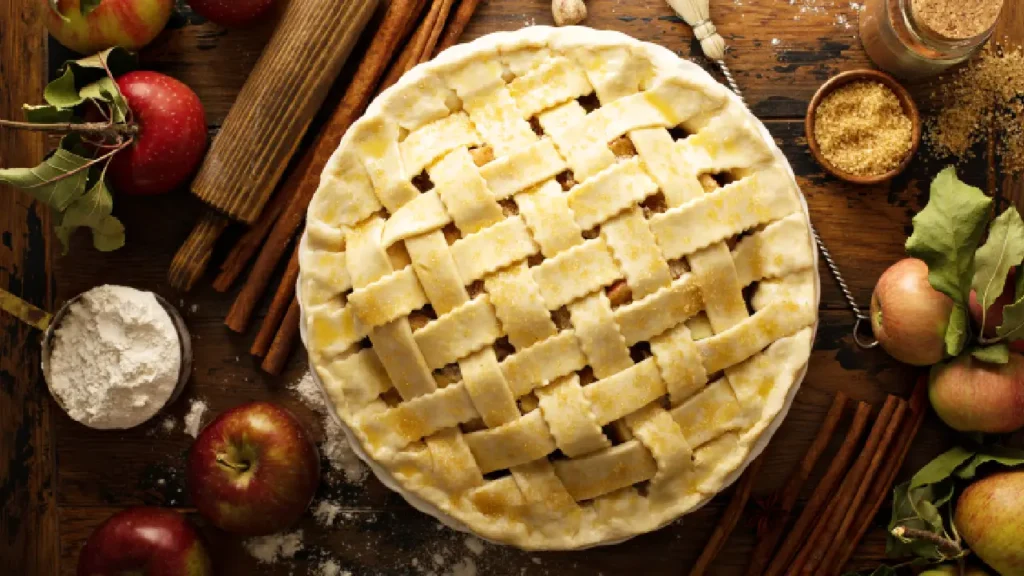 Ingredients
Filling
5 apples (firm, tart)
1 cup sugar
1 tablespoon cinnamon
Pastry
1 1/2 cups flour
1 1/2 cup sugar
100 g butter or margarine
For serving
Ice cream or custard
Equipment:
Food processor (for the pie crust)
French Rolling Pin (or any rolling pin)
Pizza Cutter (or a knife)
Melon Baller to core apples (or use a small knife)
Pie Plate (9″ wide). If it's shallow, place a sheet of foil under it to catch drips.
Bench Scraper (optional)
Step-by-Step Instructions For Apple Pie:
Filling:
Step 1
Wash the apples and split them into pieces, about 1×1 cm.
Step 2
 Place them in the greased dish. Sprinkle with sugar and cinnamon and mix around.
Pastry:
Step 1
Mix the dry ingredients into the pie dough.
Step 2
Rub the butter in the dough.
Step 3
Pipe dough into a lid and fill the apples in it. Bake at 225 ° C, about 25 minutes until golden brown.
To serve:
Serve with ice cream or custard.
Good to know when you change the number of servings
This recipe can make apple pie in one batch, which can serve 2 to 3 people. When you change the number of servings will also change the number of ingredients. In some cases, this may result in the cooking time being adjusted.
Watch the video below to learn the easy step-by-step apple pie dessert recipe in another way..
Helping Video for Apple Pie Recipe
(Click the red icon below to start the video)
FAQ