Introduction and Overview about Authentic French Brioche Recipe
In this blog, I'll be sharing a brioche recipe that's both simple and delicious. Brioche is a light and airy bread that pairs well with savory dishes and sweet desserts. This particular iteration of brioche is a sweet version that serves well for breakfast or dessert.
If you're looking for a new and different type of bread to try, then try braiding some brioche. It's a little more time-consuming than some other types of bread, but the extra effort is well worth it. So, without waiting anymore, let's get started with the Brioche recipe.
.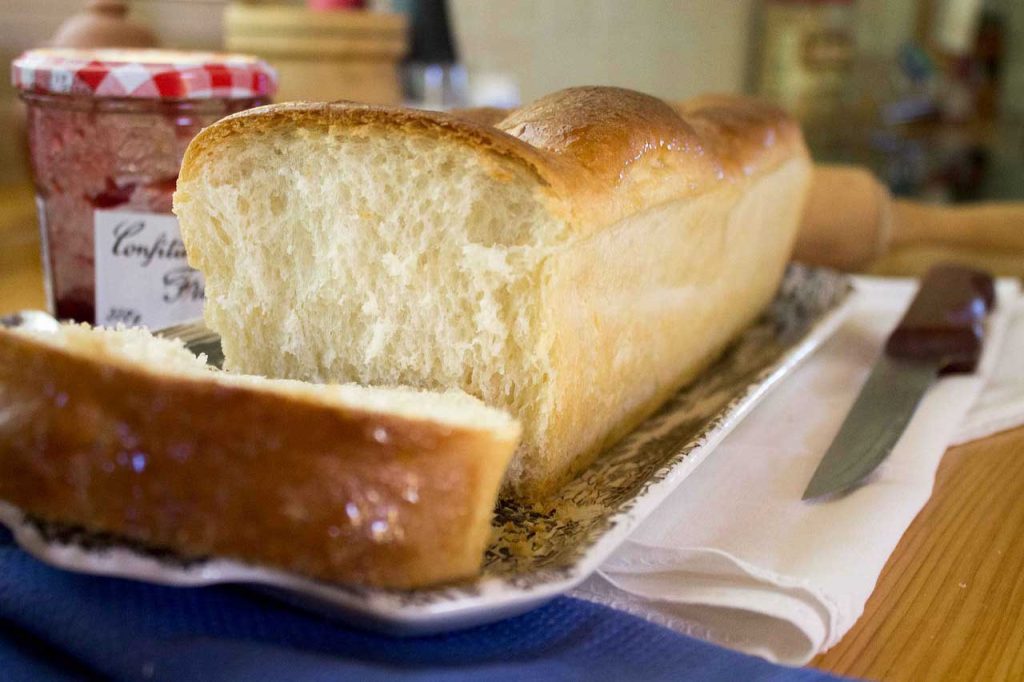 Resting Time
2 Hrs 10 Mins
---
Ingredients for Sweet Brioche Recipe:
500 gr of strength wheat flour. To know what type of flour is, just look at the nutritional information on the package itself and where it indicates the proteins if the value is more than 11 it is strength flour.
70 gr of white sugar.
3 M eggs plus another egg to paint the brioche.
120 gr of unsalted butter and a little more for the mold.
50 ml of water.
50 ml of milk.
10 grams of fresh yeast or 3 grams of dry baker's yeast.
10 g of salt.
Equipment
Large bowl
Bread makin mold
Kitchen brush
Dough maker
Oven
Step by Step Instructions
Put the water and milk in a bowl and add the yeast slightly crumbled with your own fingers. Stir with a spoon to dissolve. If you let it rest for 5 minutes and then mix again with the spoon, you will see that it will have practically dissolved completely.
Any dough can be kneaded by hand but for this, I recommend using a dough mixer or similar as it needs a fairly long kneading.
Put the flour in the bowl of the mixer together with the salt and sugar.
Put the dough hook on the robot and activate it at a low speed so that these three ingredients are mixed.
Add the milk, water, and yeast mixture and start kneading at medium speed for a couple of minutes.
Add the eggs one by one and continue kneading until the dough is almost homogeneous and separates from the walls of the bowl.
Meanwhile, cut the butter into small cubes.
For a moment the robot, separates the dough from the hook if it had been stuck and gradually incorporates the butter cubes.
Knead until the dough has a homogeneous appearance, with all the butter well integrated (it may take about 10 minutes). Ideally, the temperature of the dough does not exceed 25ºC, you can check it with a kitchen thermometer if you have one, and if not, you can touch it and the ideal is not to feel hot or cold, but at room temperature (this It is something very approximate since it depends on the climate and season of the year, but if we do not have a thermometer it can be useful).
Take the dough and put it on a surface that you have previously floured a little. Shape it into a ball and place it in a covered container (you can use a slightly damp cloth although I usually cover it with a shower cap that is usually found in hotels, it adapts phenomenally and you can use it as many times as you want).
Let it rest until it doubles in size, and depending on the room temperature it can take between 1 and 2 hours (I would say 1 hour in summer and 2 in winter, approximately). If it is winter, put the container in a warm place without drafts to promote fermentation.
Knead it again a little to deflate it, shape it into a ball again, and place it in a closed container (for example a Tupper) in the refrigerator until the next day, keeping in mind that there is more space since the dough will rise a little.
Now you can give it the shape you want and even put the dough in the mold you prefer, either rectangular or even round. I have weighed the entire dough and I have calculated that with 10 balls it would be balanced and aesthetic so I have divided the weight by 10 and I have been weighing portions of dough of 93 g each.
Grease the mold you are going to use with a little butter, spreading it with a kitchen brush or with your own fingers, or line it with greaseproof paper.
Shape each of the portions into a ball and place them in the mold, squashing them more or less so that they are close together and well attached.
Cover the mold again (I do it again with a shower cap) and let the dough rise until it almost doubles in volume. If you look at the photographs, the balls would reach the middle of the mold and then even protrude from it.
Turn the oven to 180ºC with heat up and down and a fan.
Beat the remaining egg and paint the brioche over it with the help of a kitchen brush.
Place the mold in the oven at medium height and bake for about 30 minutes. If you see that it is browning too much and it has not yet reached that time, cover it with aluminum foil.
Take the mold out of the oven and let it rest for about 10 minutes before unmolding the brioche.
Watch the YouTube video to see the French Brioche recipe visually

That was the tasty and my favorite authentic french Brioche recipe. Try this at home today for your kids for breakfast. Do not forget to share your thoughts in the comments section below.