Introduction and Overview about Caponata recipe
Caponata recipe is an Italian recipe based in the Sicily region. The main ingredient of this tasty recipe is eggplant and aubergine, along with that tomatoes, onions, peppers, and olives. There are more than 30 variants of Caponata in Italy. In this post, we are going to show you the most common version. So, without waiting anymore, let's get started the best sicilian caponata recipe..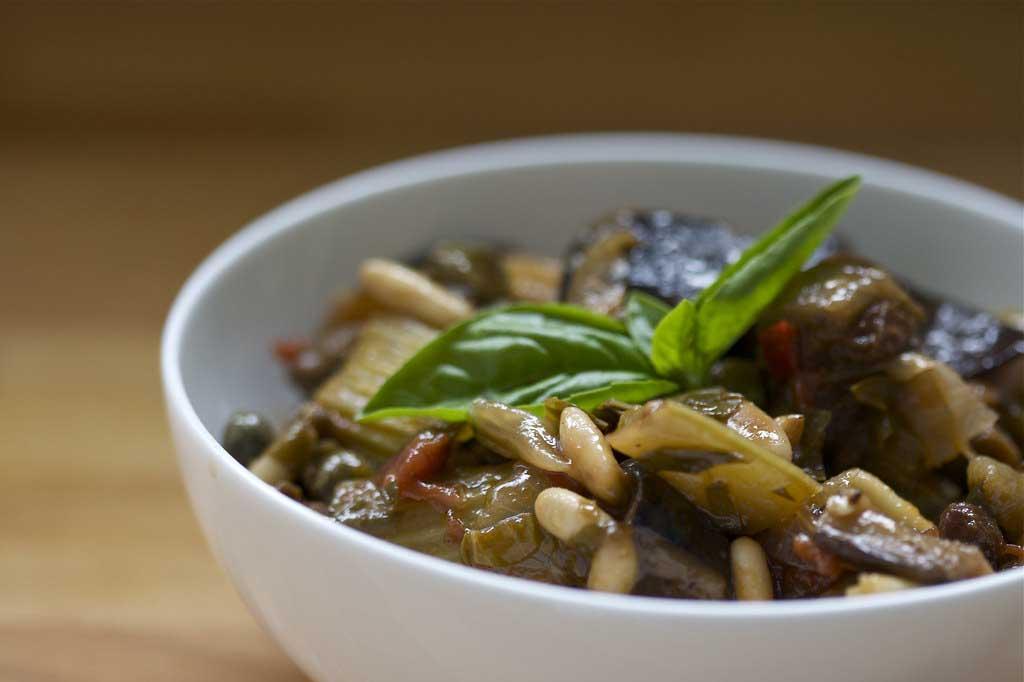 ---
Ingredients for Caponata:
1 k of aubergines
3 sticks of celery
2 onions
2 cloves of garlic
1 k of ripe tomatoes
200 g pitted green olives
50 g desalted capers
15g sugar
15 ml white vinegar
Extra virgin olive oil
Salt
Black pepper
Step by Step Instructions
1: We wash the aubergines, remove the peduncle, and cut them into 2-3 cm cubes.
2: Now place the diced aubergine in a colander, sprinkle with plenty of salt and let it rest for 30 minutes to release the bitter juices.
3: Meanwhile, we prepare the rest of the vegetables: wash and chop the celery sticks into smaller cubes than the eggplant; peel and chop the onions; Peel and finely chop the garlic cloves and peel the tomatoes and cut into small squares. We booked.
4: After the aubergine has settled, we wash it under the cold water tap. We drain and dry well with absorbent paper.
5: Then heat 2-3 tablespoons of extra virgin olive oil in a saucepan and sauté the aubergines for 7-8 minutes or until golden brown.
6: Now add the celery to the casserole and continue sautéing.
7: Heat a little oil in a frying pan and sauté the onion for a few minutes. Once poached we add it to the casserole with the aubergine and celery.
8: We add a little more oil to the pan that we have used to poach the onion. We have prepared the onion. Add the minced garlic and, before it starts to brown, add the tomato. Cook for 5 minutes over medium heat and reserve.
9: Chop the olives and add them to the casserole along with the capers, vinegar, sugar, a pinch of salt, and freshly ground black pepper. Cook over low heat for 5 more minutes. To finish we add the tomato to the casserole, stir to integrate, and remove from the heat.
10: We let it rest for a few minutes before serving or, even better, we keep it until the next day. Rest suits you wonderfully.
Watch the YouTube video to see the Caponata recipe visually

That was the tasty and my favorite original sicilian Caponata recipe. Try this at home today for your family. Do not forget to share your thoughts in the comments section below.