Introduction and Overview about Chicken tikka masala Recipe
Chicken tikka masala is a popular Indian dish and one of the most ordered food items in the UK and the USA. It is now one of the most widely ordered dishes in the world. Even though it is now an English dish, it was never seen as one. Try this ultimate and easy chicken tikka masala recipe. Let's get started.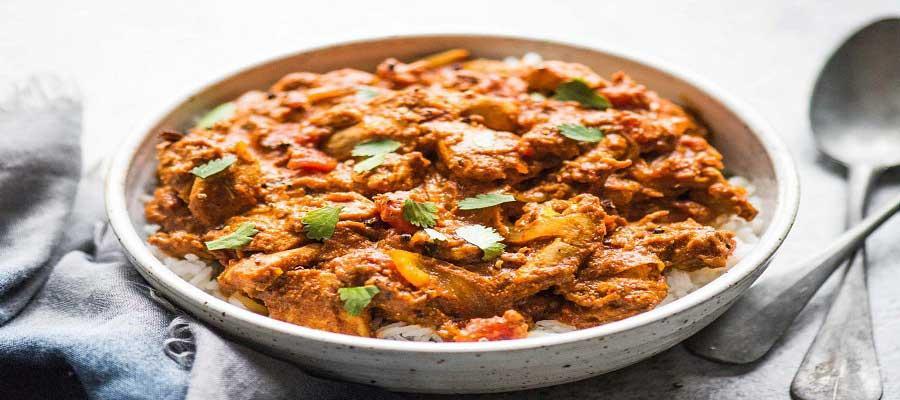 ---
Ingredients for Chicken tikka masala:
Chopped and boneless chicken (thighs and breast) 500 g
Unsweetened plain yogurt 1
Garam masala 1 tablespoon
Ground cumin 1 teaspoon for dessert
Coriander in grain (ground) one teaspoon for dessert
Concentrated tomato 50 ml
Tomato, peeled and seedless3
Coconut milk 125 ml
Black peppercorns 8 grains
Fresh ginger 1 cm grated, optional
Fresh coriander a few very chopped sprigs, optional
Curry leaf 6
1 teaspoon ground coriander
1 teaspoon ground ginger for dessert
Garlic powder 1 teaspoon for dessert
Garlic clove 1
Equipment
Large and small bowl
Electric mixer (or hand mixer if you don't have electric one)
Large skillet
Step by Step Instructions
To make it an easy-to-eat dish, we start by cleaning the chicken slices by removing the skin and cutting them into clean, boneless, medium-sized pieces. I used breasts and thighs to make it easier. We prepare our spice mix, with the garam masala, ground cumin, coriander powder, curry leaves, turmeric, garlic powder, ginger powder, and mix it well. We take half of that mixture and reserve it.
We mix the other half of those spices with the yogurt and use it to marinate the chicken there for a few hours. You can make it at night and leave it overnight in the fridge so that it takes flavor. After marinating, fry the chicken slices until lightly browned.
Then we prepare a paste with the concentrated tomato, three tomatoes without skin or seeds, the onion, a clove of garlic, some pepper berries, and the other half of the spice mixture, grinding in a food processor. In the same pan where we have the chicken slices, we add the coconut milk and the tomato paste and spices that we have made with the processor, letting the chicken cook inside, where it will take its traditional reddish color. While the chicken is finished, we can take the opportunity to prepare the rice for the garnish.
We finish the recipe by adding if we want a little chopped fresh coriander that will refresh the preparation or by adding a cm of grated ginger root if we like these ingredients. We can also take them to the table so that whoever wants to add them to their plate.
Watch the YouTube video to see the chicken tikka masala recipe visually

Helping Video about Chicken tikka masala Recipe
Video by: Foodsenter
That was the tasty and easy Chicken tikka masala recipe. Try this at home today. Do not forget to share your thoughts in the comments section below.