Introduction and Overview about Chilaquiles Recipe
Chilaquiles is a popular Mexican breakfast dish made from corn tortillas that have been fried and then cooked with red or green salsa or sauce and optionally with meat, chicken, or vegetables. This blog will look at what you need to make the dish and provide an authentic chilaquiles recipe.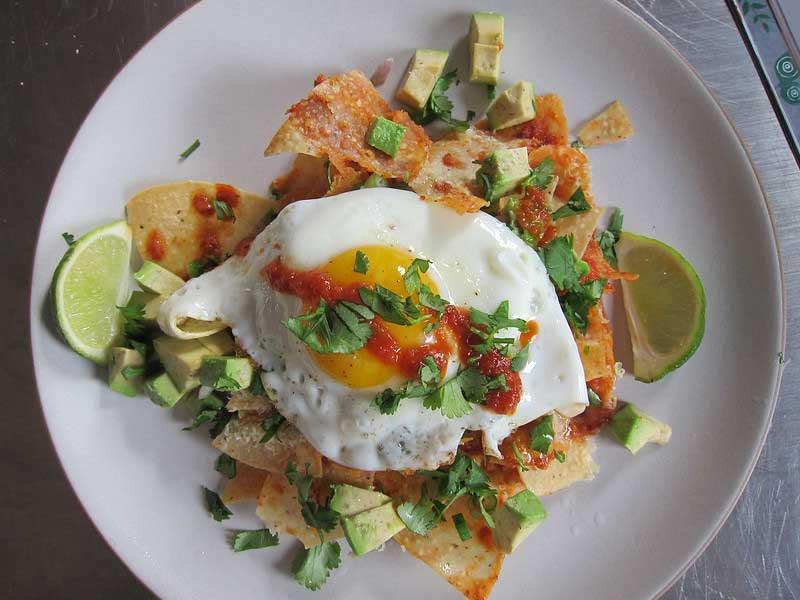 ---
Ingredients for Chilaquiles:
3 gourd tomatoes
6 cleaned guajillo chilies, seeds, or veins
2 cloves of garlic
1/4 onion
1 tablespoon of oil
2 branches of epazote
Salt to taste
For the chilaquiles:
4 eggs
150 ml oil
400 g of tortilla chips for chilaquiles
200 ml sour cream
250 g of fresh cheese crumbled
1/2 onion filleted
2 cups refried black beans
Equipment
Large bowl
Cooking Pot
Frying Pan
Step by Step Instructions
To make the guajillo chili sauce:
Boil the tomatoes in water for 3 minutes.
Add the guajillo chiles and let them boil for 2 more minutes.
Remove the ingredients from the heat and let them rest until cool.
Blend the tomatoes and chiles with the water where they are boiled, together with the garlic and onion until you get a smooth sauce.
Strain it and set it aside. Put on the fire a saucepan with the oil; when it is hot, add the sauce, the epazote branches, and the salt.
Let it boil for 5 minutes. Reservation.
To prepare the red chilaquiles:
Place a frying pan with oil on the fire. When it is hot, prepare four fried eggs in it, one at a time. Reserve them. (If you prefer you can use scrambled eggs or consume them without protein).
Distribute the chips on plates and bathe them with the hot sauce.
Add cream, cheese, and onion. Put a fried egg on each plate, over the chilaquiles and if you wish, accompany them with beans.
Watch the YouTube video to see the Russian Syrniki recipe visually
This video is made by Munchies YouTube Channel.
Helping Video about Chilaquiles Recipe with Eggs
That was the tasty and my favorite Chilaquiles Recipe. Try this at home today for your kids for breakfast. Do not forget to share your thoughts in the comments section below.