Introduction and Overview about Deviled Egg Recipe
Deviled egg recipe is very easy to make and is very delicious to eat. It is an ancient Roman boiled eggs recipe seasoned with sauces. Nowadays, it is part of medieval European cuisine. Perfect breakfast and starter item for both kids and elders. It is also called dressed eggs, salad eggs, or stuffed eggs.
Today we bring you a recipe with fish and eggs, suitable for all types of kitchens. Even those of you who do not have an idea of cooking will be able to prepare these stuffed eggs without any major problem.
Want to get an off-road picnic recipe, just get prepared with some basic ingredients available in almost every home. This will not take much time and can be prepared for your outdoor day or for advance lunch or dinner.
For these stuffed eggs we are going to use mayonnaise, an element always to be taken into account, especially in the summer months, where the heat can affect their state. To avoid entanglement and make your life easier, I have used good-quality mayonnaise. Any way you can make your homemade mayonnaise.
It is a dish that is usually eaten cold, as a first course or appetizer, but they are also very tasty freshly made. Now you just need to prepare them with this or another filling (to your liking) and enjoy them at the table.
Now, let's move to "Best Deviled Egg Recipe". Have a look!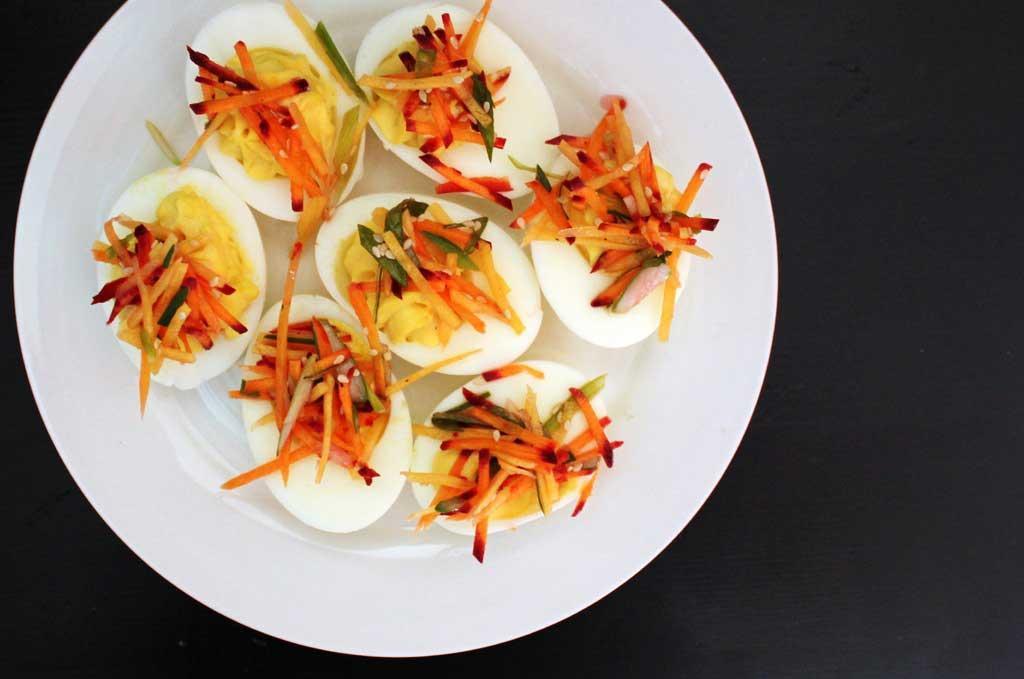 ---
Ingredients for Deviled Egg:
8 eggs (2 per person)
150 g. tuna in olive oil
10 green olives (pitted)
4 tablespoons of mayonnaise
Salt to taste
Equipment
Large bowl
Cooking pot
Knife
Step by Step Instructions:
Cooking the eggs
Eggs are the basis of this recipe so choose good quality ones. We start by cooking the eggs in boiling water for 10 minutes.
After a time, we put them in a bowl and submerge them in cold water. This will cool them faster and the subsequent task of peeling them will be easier. Once cold, we peel them and cut them in half. Carefully remove the cooked yolks and reserve them.
Preparation of the filling
We open the tuna cans. I have used some preserves made with olive oil, being of higher quality and better flavor. Remove the tuna and drain it on absorbent kitchen paper. We put in a large bowl, where we will prepare all the filling. Of the pitted olives, we leave 4 for the final plating. The rest is finely chopped and transferred to the bowl.
We repeat the process with the yolks, chopping them up and adding them to the rest of the ingredients. Mix and salt to taste. We now add 4 tablespoons of mayonnaise and begin to mash the whole mixture with a fork. Little by little, a homogeneous and smooth mixture will be created, which will be the filling of the emptied egg whites.
Stuff the deviled eggs
To fill the whites, use a knife with a rounded tip or a small teaspoon (coffee size).
We take a little dough, fill the hole, and put the same, simulating the size that the original yolk of the egg would have. Do not be in a hurry and do it calmly, so that the clearings do not break. I leave you with a video of how to prepare homemade mayonnaise, so it will come out the first time and of course, yummy.
Watch the YouTube video to see the Healthy Deviled Egg Recipe visually.
Helping Video about Deviled Egg Recipe
Video by: Downshiftology
That was the tasty and my favorite Spicy Deviled Egg Recipe. Try this at home and enjoy. Do not forget to share your thoughts in the comments section below.