Introduction and Overview about Eggs Benedict Recipe
Eggs Benedict is a famous American dish but is yet to get acceptance all over the world. The dish is made with eggs, ham, and Hollandaise sauce. The eggs benedict recipe is very easy to make and is enjoyed for breakfast on most days of the week. The dish is common in Canada, New York, New Zealand, and England.
Read more to learn how to make eggs benedict in an original style.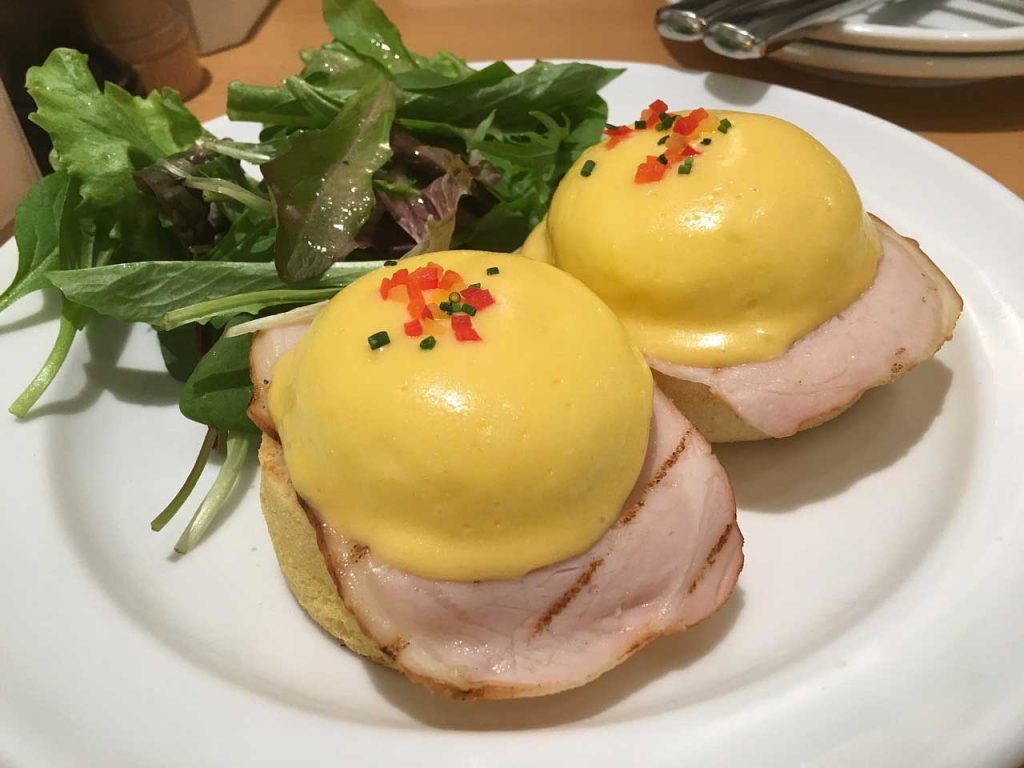 ---
Ingredients for :
Hollandaise sauce recipe ingredients
2 tablespoons white wine vinegar
1/2 tablespoon fresh or dried tarragon leaves
Crushed peppercorns units5
Tablespoon water1
yolks3
Warm melted butter grams200
1 tablespoon lemon
Salt to taste
Pepper to taste

Poached eggs
Fresh eggs4
Half tablespoon vinegar
Tablespoon salt1

Presentation
English Muffin type breads2
Canadian loin slices4
Fresh thyme leaves to taste
For toppings:
Powdered sugar, sour cream, jam, or fresh fruits. (It is optional, you can use whatever you want to use)
Equipment
Large bowl
Saucepan
Egg beater
Eggs benedict recipe easy Instructions
Hollandaise sauce
Boil the vinegar, tarragon, pepper, and water in a small saucepan until half of the liquid evaporates.
Strain and let cool.
Mix the egg yolks with the reduced vinegar mixture in a bowl.
Put the container in a double boiler over high heat; With a whisk, beat the mixture until it thickens.
Add slowly, while beating, the melted butter.
Add salt and pepper to taste and the lemon juice.
Adjust the consistency with a little water.
Remove from heat and reserve.
Poached eggs
Heat 3 cups of water with the vinegar and salt over medium heat in a saucepan. Break an egg into a small bowl, taking care that the yolk does not break.
Scoop the water in a circular motion in one direction.
Slowly add the egg in one go and cook for 3 to 5 minutes.
Scoop it out with a slotted spoon and place it in a bowl of warm water.
Repeat this step with the rest of the eggs and set them aside.
Presentation
Open the loaves in half and toast them in the toaster or oven.
Place each half on a separate plate and spread the slices of Canadian tenderloin and poached eggs on top.
Bathe them with the hollandaise sauce, sprinkle with chives, and a little paprika.
Watch the YouTube video to see the Eggs Benedict recipe visually
Helping Video about Eggs Benedict Recipe
Video by: Crouton Crackerjacks
That was the tasty and best Eggs Benedict Recipe. Try this at home today for your kids for breakfast. Do not forget to share your thoughts in the comments section below.