Introduction and Overview about Juane Recipe
The juane recipe is super simple, although it may seem otherwise. Cooking juane at home is like having a little piece of the jungle in your home and placing the magic of this food on our table. Many tend to hesitate to prepare it because they think that we will need precise ingredients from the jungle and not be able to get them. But I tell you that it is not as complicated as it seems. We can look for them in grocery stores close to home. Let's go with the recipe!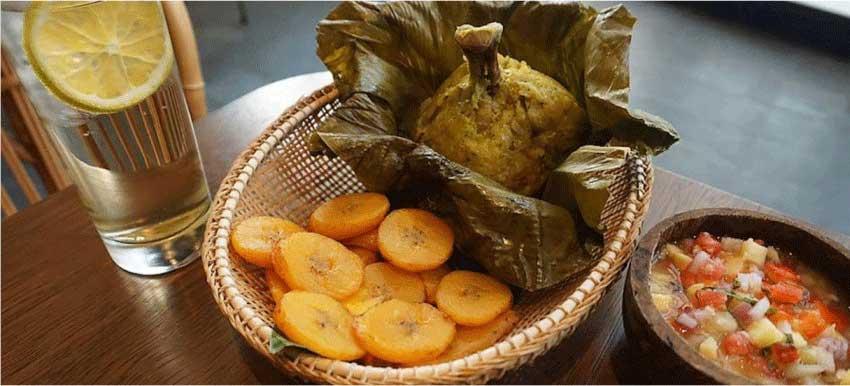 ---
Ingredients for Juane recipe:
8 pieces of chicken
8 olives
8 eggs
1 1/2 kilos of rice
4 cups of water
1 tablespoon minced garlic
1/4 teaspoon oregano
2 bay leaves
2 onions
1/2 cup of butter
16 bijao leaves two per portion
Salt, pepper, and cumin to taste
1 tablespoon of turmeric or saffron
1 cube of chicken broth
Equipment
Large bowl
Saucepan
Cooking pot
Juane recipe Step by Step Instructions
Step 1
In a pot for the rice put a little oil and ground garlic, pour the water and leave it there until it is about to boil, add the rice and let it cook.
Step 2
Having your rice ready, place it in a bowl and let it cool to room temperature. This source will be the place where the merge will be done.
Step 3
Cook the 8 eggs in a small pot and submerge them with a little salt. Having the eggs cooked, set them aside.
Step 4
In a pan, melt the butter and add the garlic. Brown the onion and add the turmeric, the chicken cube, oregano, bay leaf, and salt.
Step 5
Having the dressing in the pan. Add the chicken pieces and fry them until they are sealed. Pour water for the prey to boil for half an hour over medium heat.
Step 6
Remove the pieces and mix the rice with the dressing. Then, divide the dough into eight portions and add a piece of chicken or hen, an olive, and an egg to each one.
Step 7
Stretch two bijao leaves on the table and put a portion inside. Next, Shape the rice into a round shape and place it in the middle. Once ready, Join the bijao leaves from each side to the center and tie it with a wick or string.
Step 8
Place the Juanes in a pot of boiling water and leave them there for about 50 minutes or so.
Step 9
When these are already boiled, take them out and let them cool to room temperature. We're not done yet. Here below I leave you two very important tips.
Juane recipe tricks and tips
If you don't have or can't get bijao leaves you can also use banana leaves.
If you decide to make the Juane with banana leaves, they may be very hard or frozen. So that the sheets are not too hard and more flexible to work with, I advise you to run them through a little hot water and then clean them with a damp cloth. Be very careful so they don't break.
Watch the YouTube video to see the Juane recipe.

Helping Video about Juane Recipe
Video by: Danitza Garcia
---
Juane review by: Samuel and Audrey – Travel and Food Videos

Burn the calories you consumed by:

322 mins of moderate walking

105 mins of running @ 10 min/mile

133 mins of cycling (moderate speed)
Did not find your favorite exercise? Try this calories burning calculator to burn the consumed calories while having your favorite exercise.
History of Juane Recipe
The name Juane comes from the popular festival of San Juan, which is celebrated every June 24, paying homage to the apostle Saint John the Baptist.
Moyobamba is the exact province where this dish is deeply rooted and in reality, it is not that the food was born from that festivity, but that it begins with the expedition of immigrants from the coast and mountains that arrive at this place, and with them their culinary customs. Together with the locals, they merged the food to make this dish, with recurring ingredients that make it stand out.
Over time, this dish became a habit because the inhabitants of the Amazon carried food in leaves, usually bijao, when they went deep into the jungle. This type of leaf preserves the food better, even for days.
Over time, the custom of going to the countryside for the festival of San Juan took over and the connection between the festival and this dish was what gave rise to its name, Juane. In addition, the food of the jungle has not stayed within its own place but is increasingly requested in various parts of Peru and abroad.
That was the tasty and very unique Juane Recipe. Try this savory chicken and rice dish at home today. Do not forget to share your thoughts in the comments section below.