Introduction and Overview about Kisir Recipe
In this post, we are going to tell you about the Kisir Recipe also known as Turkish bulgur Recipe. It is a popular Turkish salad made with Bulgur as the main ingredient. Let's move towards the Turkish kisir recipe.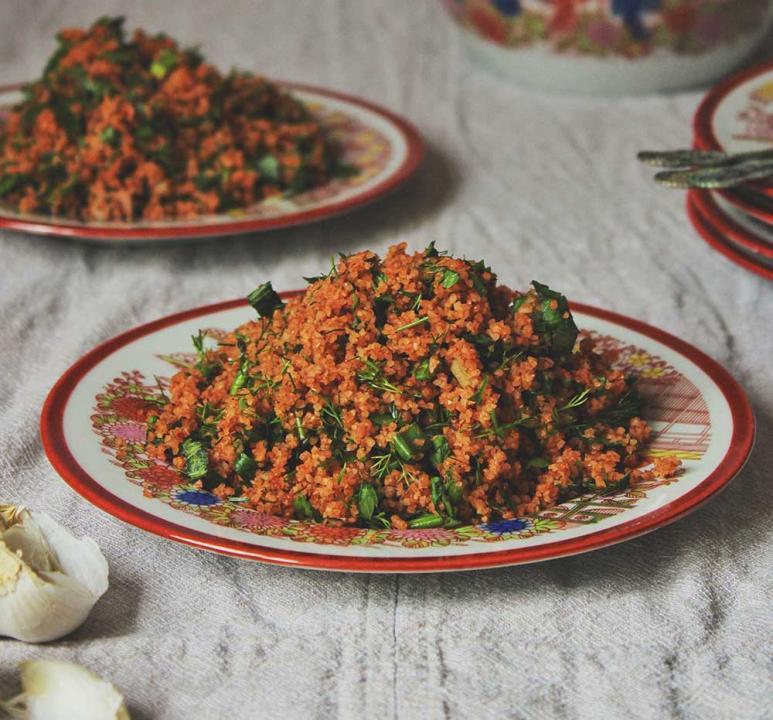 ---
Ingredients for Kisir:
3½ cups fine bulgur
1½ cup of boiling water
1 onion, thinly sliced
½ cup olive oil
3 tablespoons tomato puree
1 tablespoon fresh pepper paste
1 mini cucumber diced
1 small bunch of chopped parsley
10 lettuce leaves cut into thin strips
1 large tomato, peeled, seeded, and diced
5 small chives thinly sliced
2 small lemons freshly squeezed
3 tablespoons pomegranate
Salt
½ teaspoon red pepper flakes
Equipment
Large bowl
Frying pan
Wooden spoon
Chopper
Step by Step Instructions
In a large bowl, add the fine bulgur, then pour the boiling water over it and mix with a spoon.
Cover the bowl and let the bulgur swell, while you prepare the rest of the recipe.
In a frying pan, heat the olive oil and add the chopped onion.
Fry over medium heat for 3 minutes, stirring with a wooden spoon, then add the tomato puree and the salçası Biber (fresh pepper paste).
Mix everything well, cover, and cook over medium heat for 5 minutes.
Stir the bulgur with a fork.
Pour the sauce over the bulgur and mix so that the bulgur is well impregnated with the sauce.
Let cool for 1 hour at room temperature.
Add the cucumber, tomato, parsley, lettuce, and chives to the bulgur. Also, add lemon juice and pomegranate molasses.
Season with salt and add the chili flakes.
Serve cold, on a large plate, or in small individual servings.
Watch the YouTube video to see the Turkish Kisir Salad recipe visually

Helping Video about Turkish Kisir Recipe
Video by: Hungry Man Kitchen
That was the tasty and my favorite Kisir recipe. Try this at home today for your kids as an appetizer. Do not forget to share your thoughts in the comments section below.