Introduction and Overview about Multigrain Bread Recipe
Making homemade multigrain bread is a great way to get more whole grains in your diet. This multigrain bread recipe makes a denser, more filling bread, great for sandwiches or toasted with a little butter. The multigrain flour gives the loaf a nutty taste and an added crunch to the texture.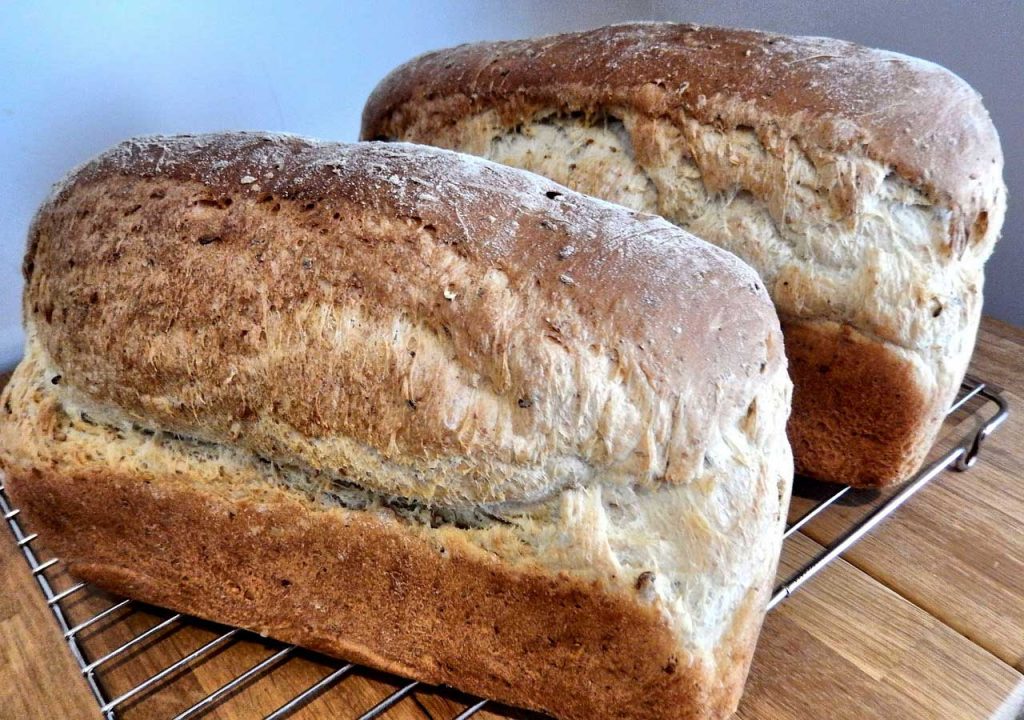 Resting Time
1 Hr 45 Mins
---
Ingredients for Multigrain Bread:
150 grams of sourdough white sourdough from Richard Bertinet, made the day before)
350 grams of bread flour
100 grams of whole rye flour
3/4 cup of corn (or cornflour)
100 grams of whole wheat flour
125 grams of seeds (sesame, sunflower, and/or pumpkin seeds, linseed, fennel, you can also use cereals such as oat flakes, rye, millet …)
30 grams of muscovado sugar
10 grams of salt
20 grams of baker's yeast
450-500 grams of water
Equipment
Large container
Baking tray
Oven
Step by Step Instructions
Whether in a mixer or by hand, mix all the ingredients in the appropriate container, previously dissolving the yeast in a little warm water. Start mixing and kneading, if it is with a kneader, for approximately ten minutes, if you do it by hand when the mixture of ingredients begins to be a dough, transfer them to the work table and knead, and remember not to add more flour to the dough.
Once you have the dough ready, make a ball and put it in a large lightly floured bowl, cover with a cloth and let it rise for 45-60 minutes in a warm place without drafts. After this time, dump the dough again on the work surface with a pinch of flour if necessary and degas, knead and fold and form a ball again to let it ferment another 45 minutes under the same conditions.
Once again, dump the dough on the work surface and divide the dough into the portions you need, we made a small round loaf, a loaf, and a pizza base that came out delicious, so to your liking.
Form the loaves as you wish, you can use a banneton and you can also use the cake mold or similar to do that, the mold bread, this mold must be previously greased with olive oil. Let the dough rise again until it doubles in volume, about an hour and a half.
Preheat the oven to 250º C, put the bread in the oven (you can do it in two batches) spraying water beforehand to create steam. After the first 3-5 minutes, reduce the temperature to 220º C and bake for approximately 30 minutes, depending on the size you have given to the loaves.
When the Seed and Cereal Bread is done, remove it from the oven, and from the mold if you have used it, and let it cool on a rack.
Watch the YouTube video to see the Multigrain Bread recipe visually

Helping Video about Multigrain Bread Recipe
Video by: MOM'S CULINARY CUISINE
That was the tasty and my favorite whole grain bread recipe . Try this at home today. Do not forget to share your thoughts in the comments section below..