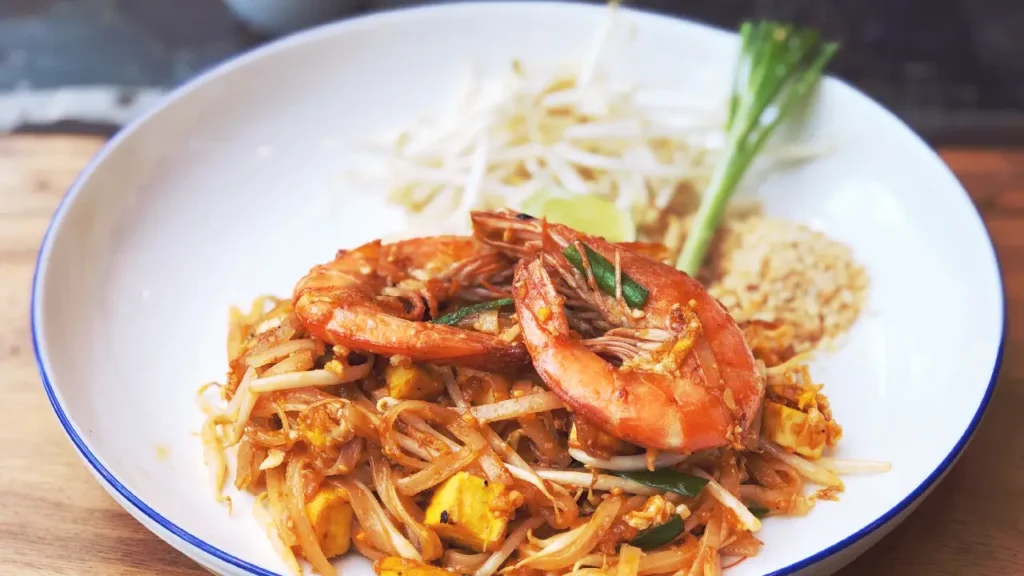 Introduction and Overview of Pad Thai Recipe
Traditional Pad Thai Recipe is a classic Thai noodle recipe that is served with chicken. Chicken fillet (or shrimp), rice noodles, carrots, peppers, and bean sprouts are some of the ingredients in this dish and give the best taste with other ingredients like fish sauce and lime. This is an easy, simple, tasty, and healthy recipe and you can try this at home.
| | |
| --- | --- |
| Prep time: 20 mins | Resting time: 0 mins |
| Cooking time: 40 Mins | Total time: 1 hr |
| Serving: 4 | Course: Lunch |
| Cuisine: Thai | Course: 319 Cal |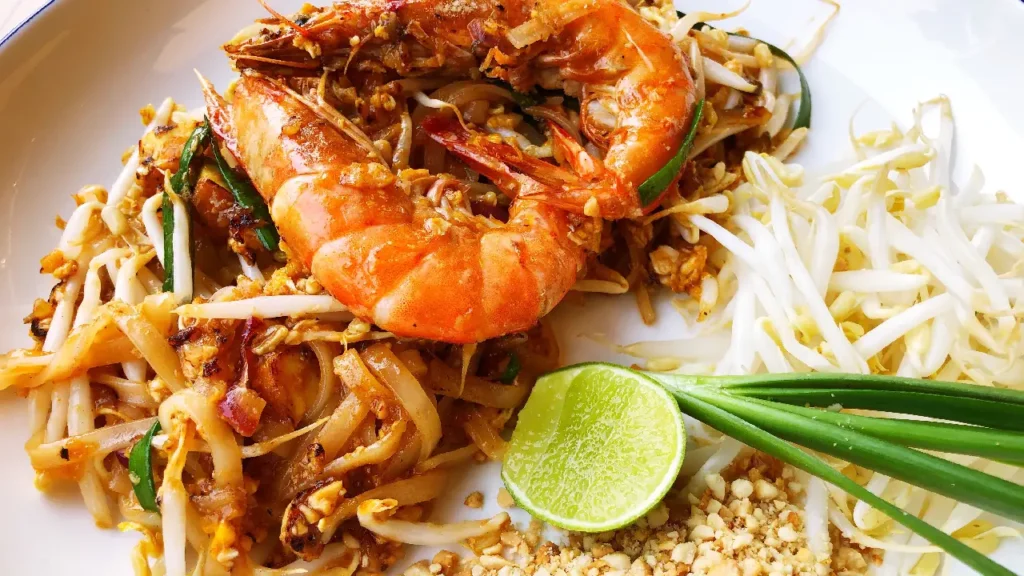 Equipment:
Peeler
Frying Pan
Wooden spoon
Ingredients for Chocolate Cake:
250 g rice noodles
2 cloves garlic
1 or 2 red chilies
1-2 carrot
3 to 4 scallions (spring onion)
400 g bean sprouts
2 tablespoons Asian fish sauce
Juice of 1 lime
2 tablespoons sugar
400 g of chicken (or prawns optional)
1 tablespoon neutral oil
1/2 tsp salt
2 eggs
Step-by-step instructions:
Step 1
Boil salted water in a large saucepan.
Step 2
Now add the noodles and let them boil until soft, but has a slightly chewy left. Drain and add fresh, cold water and put it aside.
Step 3
Peel and chop the garlic. Core the chili. Peel and shred the carrot. Clean and shred the spring onions (scallions). Let the bean sprouts be drained in a colander. Mix the fish sauce, lime juice, and sugar in a bowl. Shred the chicken. (If you chose prawns, just boil them).
Step 4
Fry the garlic, chili, carrot, and chicken in oil for about 3 minutes in a wok or large frying pan. Season with salt. Add the bean sprouts and half of the scallions.
Step 5
Reduce the heat and crack an egg at a time in the pan. Stir while the eggs solidify. Add the noodles, to the pan and stir. Add the fish sauce mixture and mix well. Let everything be hot.
Step 6
Your Pad Thai is ready to eat. Serve with chopped peanuts, the rest of the scallions, and lime wedges.
Remember: Small children can put them in the throat.
Note: Feel free to add some more fish sauce for more saltiness.
Note 2: Change the number and amount of ingredients if you want to change the number of servings.
Here are some new recipes which are awesome to try.
Watch the YouTube video below for Pad Thai Recipe