Introduction and Overview about Pollo al ajillo Recipe
Pollo al ajillo recipe is not only one of the best chicken recipes but also one of the best Spanish recipes. This chicken dish originated in Andalucia, Spain. Pollo al ajillo recipe is a tasty, tasty dish that everyone will love. It is simple to make and very affordable, especially when you buy chicken on the bone. This dish will help you understand the importance of getting good ingredients for your food. You can serve it with some freshly cooked vegetables or with a side of potato salad. Let's make it.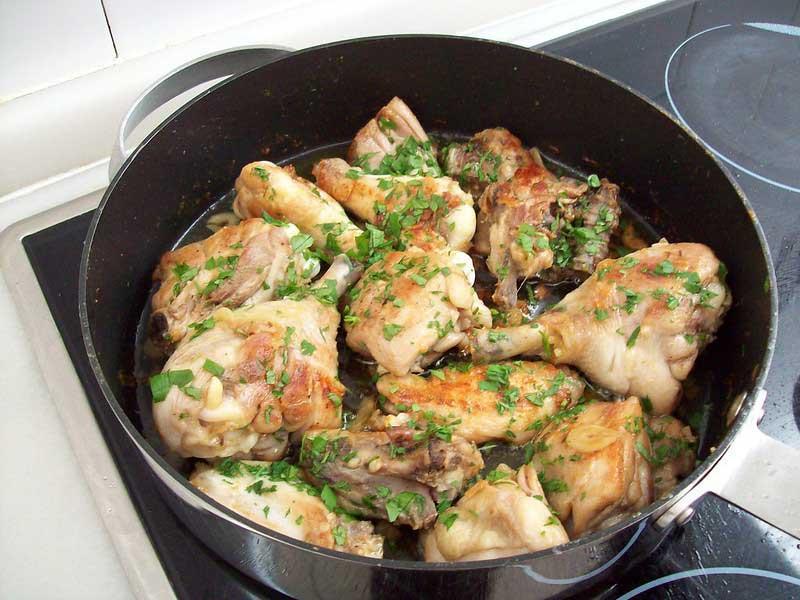 ---
Ingredients for Pollo al ajillo:
1 free-range chicken, chopped (2 kg.)
8 cloves of garlic
1 bay leaf
Aromatic herbs: 1 sprig of fresh rosemary and thyme (to taste)
75 ml. extra virgin olive oil
Salt and freshly ground black pepper (to the taste of each house)
For garnish, a little chopped fresh parsley or coriander will do well (optional)
Equipment
Large and small bowl
Fryingpan
Knife
Step by Step Instructions
Preparation of the chicken stewed with garlic
The first thing we do when buying the chicken is asked the butcher to cut it up for us. We should clean the pieces of fat at home.
In a wide casserole we put to heat abundant olive oil and we toss the garlic without peeling. We cook them over medium heat, being careful that they do not burn us. The idea is that they are caramelized and that they serve as a flavoring for our oil. When we see that they are soft after about 5 minutes, we remove them and reserve them.
Add the chicken pieces to the casserole with the aromatized garlic oil, together with the bay leaf, the rosemary branch, and the thyme.
The chicken should be well fried, which will take at least 15 to 20 minutes. We have to be aware of giving the pieces back from time to time to ensure that they are toasted all over. It's not just about browning and sealing it like when we prepare it for a stew. What we want is for the chicken to be perfectly cooked and tender on the inside and toasted on the outside.
Final preparation of the garlic chicken
When we see that our meat is almost ready, we remove the excess oil. We add again the garlic that we have reserved. We continue to cook the meat.
Pour a little of the sauce that will remain in the casserole on top. Don't forget a good piece of bread to taste this chicken and garlic sauce. Delicious.
Watch the YouTube video to see the Pollo al ajillo recipe visually

Helping Video about Pollo al ajillo Recipe
Video by: Spanish Homemade in Barcelona
That was the tasty and my favorite Pollo al ajillo recipe. Try this at home today. Do not forget to share your thoughts in the comments section below.