Introduction and Overview of Popcorn chicken Recipe
Popcorn chicken recipe has been around for a long time. There are even some people who are of the opinion that the name 'popcorn chicken' is a misnomer because truly, the chicken has no resemblance to popcorn. This blog will look at the easy popcorn chicken recipe. So, let's get started.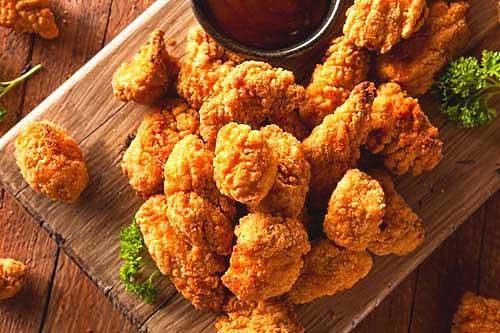 ---
Ingredients for Popcorn chicken:
500 grams of boneless chicken breast, without the skin or traces of fat and cartilage.
Salt to taste
Pepper to taste
A teaspoon of onion or garlic powder (whichever you prefer)
One teaspoon of Paprika or paprika
1 Egg
A cup of flour
A cup of milk is equivalent to 250 milliliters
One teaspoon of oregano
One teaspoon of turmeric (optional)
Vegetable oil for frying, preferably olive
Sauce to taste (barbecue, white, tomato sauce, mustard, etc.)
Equipment
Large and small bowl
A knife without a saw but sharp
Cutting board
Pan
Skimmer
Tray
Absorbent kitchen paper
Serving plate or tray
Step by Step Instructions
When making this chicken popcorn recipe, the main thing is to start preparing the chicken breast. To do this, it has to be cut into small parts with a knife. Size is especially important because each bite must be able to be eaten in one bite. As much as you can, the pieces should be as similar in size as possible. In addition, this will make it easier for you to cook.
Then take a bowl and put the milk and salt in it. Mix the two ingredients well. Once you have it, add the chicken breast pieces, ensuring that they are well covered. If you have time, cover the bowl with plastic wrap, a lid, or aluminum foil to put it in the fridge and let it cool for about an hour.
While the chicken is in the fridge, you can start preparing the flour mixture with the spices that we have indicated. To do this, take a bowl and put the flour, the egg, another little sea salt, the onion or garlic powder, the paprika or paprika, the black pepper, the dried oregano and, if you wish, the turmeric or another spice that you like. Stir all the ingredients well with clean hands or with a wooden spoon or fork so that they are completely mixed. If you need to stir more, you can make the mixture in a bowl with a lid so you can shake it and make everything easier and faster.
Remove the chicken pieces that you had in the bowl with salt and milk with the help of a slotted spoon and let them drain well. Once you have them drained, you should put the chicken pieces in the mixture of flour and spices so that they are well covered. They have to be like battered chicken, but they should not have an excess of flour so that the popcorn does not take too much oil. Once the pieces are wrapped do not leave them in the bowl, put them on a well-separated tray until it is time to cook them. You have to repeat this process until you finish with all the chicken pieces.
Once you have finished, take a pan and put the olive oil in it to heat it. When it is already at the optimum temperature for frying, go put the floured chicken pieces in the pan to fry them. The normal thing is that in three or four minutes they are done. But the chicken must cook well – you can try one to catch the frying time – and that the floured has a golden color. When they are done, you take them out of the pan and add other pieces of chicken to cook and so on until you are done.
Tips:
When you remove the chicken pieces already fried, you must place them on a tray in which, previously, you will have put an absorbent kitchen paper so that the rest of the oil and fat are soaked and the chicken remains crunchier. In any case, it is a dish that has to be served hot, so you cannot leave much time for the oil to release, for it is better to put several layers of absorbent paper on the plate because that way it will soak more. And it would be ready to serve on the table in another tray without the absorbent paper and with small bowls with the sauce that you like the most. To accompany this delicious fried chicken popcorn recipe, we propose the following:
Honey mustard sauce.
Barbecue sauce.
Garlic sauce.
Teriyaki sauce.
If you have to make chicken popcorn for more guests, it is convenient that you put several frying pans on the stove because this dish has to be eaten while still hot and it is better to do more at the same time than not let it cool.
If you like your popcorn with a crunchier texture, you can substitute the flour for breadcrumbs or even, for crushed popcorn.
To make the popcorn less fat, you can bake it instead of frying it.
Whenever you have time, it is convenient that you let the chicken marinate in the milk with salt. Thus, when cooked, it will be juicier.
Watch the YouTube video to see the Popcorn chicken recipe visually

Helping Video about Popcorn chicken Recipe
Vide by: Crunchy Chicken
That was the tasty and my favorite Popcorn chicken recipe. Try this at home today. Do not forget to share your thoughts in the comments section below.