Introduction and Overview about Turkish Delight Recipe
A Tradition Turkish delight recipe that can make 30 pieces of homemade sweet. Flavored with rosewater and lemon and can be covered with icing sugar, copra, or cream of tartar. As the name says, the tasty chewy candy belongs to Turkey and it is also called "Lokum" or "Rahat Lokum" in Arabic/Turkish culture. Let's get started.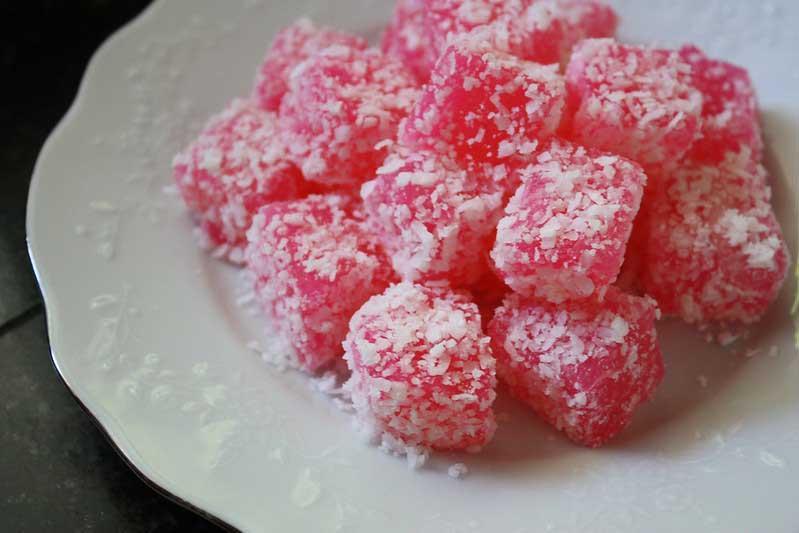 Cooking Time
1 hr 30 Mins
---
Ingredients for Turkish Delight:
9 cups granulated sugar
1/2 cup juice
3 cup cornstarch
1 teaspoon of tartaric acid
10 cups water
1/2 cup powdered sugar
1 teaspoon vanilla essence
2 pinches of saffron
2 teaspoons rosewater
Neutral rapeseed or canola oil (for greasing)
)
Equipment
Large and small bowl
Stainless steel saucepan
Cutter
Bread pan
Airtight jar
Step by Step Instructions
Mix sugar, lemon juice, and 3 1/2 cups water in a large stainless steel saucepan. Cook to 120 degrees.
Mix tartaric acid, 2 1/2 cup cornstarch, and 6 1/2 cups water in a large saucepan. Bring to a boil, stirring to form a thick paste.
Carefully pour in the syrup, stirring occasionally. Let simmer, stirring for about 1 1/2 hours until the batter is golden brown. Just make sure it does not get burned!
Grease a bread pan, about 10 x 30 centimeters, with neutral canola oil. Cover with plastic wrap. Mix the rest of the cornstarch and vanilla sugar. Sprinkle half of the plastic foil.
Take the hot mixture from the heat, mix in the rose water and saffron. Let cool for 15 minutes.
Pour the mixture into the mold and let stand at room temperature for twelve hours. Set in the fridge last hours so that it becomes hard and is easy to cut.
Cut into squares and roll the pieces in the remainder of the corn starch and powdered sugar. Store in an airtight jar. If the batter feels loose, it is best to store the candy in the refrigerator.
Your easy Turkish delight sweet is ready to eat. Take it with Turkish coffee or with creamy hot chocolate.
Watch the YouTube video below for a visual recipe..
Helping Video about Traditional Turkish Delight Recipe
(Click the red icon below to start the video)
Rose and Pistachio Turkish Delight Recipe
Turkish delight has many flavors and variations. You can many any of them like lemon, rose, pistachio and pineapple. We are going to make it with the flavor of rose and pistachio. So, let's do it.
---
Ingredients:
Cornstarch 1 cup
Water 3 cups
Cream of tartar 1 tsp (can be found in any superstore)
Rosewater 2 tbsp
Red food color 1/4 tsp (Red or which color you like)
Cornstarch 1/4 cup (Cornstarch and cornflour is the same item whatever you pronounce it)
Cooking oil for greasing the 9-inch pan
Pistachios 20 (sliced)
Powder sugar 1/2 cup
For Syrup
Granulated Sugar 4 cups
Water 1 & 1/2 cup
Lemon juice 1 tsp
Method:
1: First of all, in a large pan, add 4 cups of granulated sugar, 1 & 1/2 cups of water, and lemon. Keep the flame on high and keep mixing with a spoon. Don't stop your spoon until dissolved. After 3 to 5 minutes, low down the heat. Keep removing the sugar crystals from the side of the pan. Dip the brush in water before brushing. Bring the syrup to a boil. When it comes to 240 °F, remove from the heat. (Use a thermometer to check the heat).
"Note: The brushing procedure is very important for Turkish delight. If not done properly, it might be possible that crystals made from sugar can cause a bad taste experience."
2: In another pan, add 1 cup of cornstarch (corn flour), cream of tartar, and 3 cups of water and whisk while adding water. Mix it very well. Now place it on the medium flame and keep mixing until it becomes like glue. Don't cook on high flame, use medium flame and keep stirring.
3: When you get prepared your syrup and glue, it's time to mix them up. Add syrup in the glue pan slowly while whisking the glue continuously (Your glue pan is still on the flame and on the low flame). Your one hand should be mixing the glue and one hand should be adding the syrup. If you can't do this task yourself, take help from another person for whisking or adding.
Caution:
"Please keep in the mind the preparation time of syrup and glue. Start with syrup and when your syrup is 50 percent ready, it is time to go for the glue. Don't make syrup much earlier because you have to add warm syrup in glue. If you made syrup much earlier than glue, there is a possibility that the syrup will be hard after getting cool. You have to add syrup at boiling hot temperature."
4: When all of your syrup goes in the glue, keep mixing and mix it very very very well. As mentioned earlier that your glue pan is on low flame till now. Keep mixing with a wooden spoon or whisker for one hour or until lightly golden. Mix with patience, don't be hurry. Don't stick it on the bottom.
5: When your mixture becomes lightly golden, it is time to add rose water and food color. Mix rose water and food color and add them to the pan. Give it a mix.
6: Now add pistachios and mix.
7: Grease a 9-inch pan and pour the mixture into it. Spread it into the whole pan. Now cover it with cling film and leave it for 8 hours. Grease the cling film with butter before covering. If your pan is deep, then leave it for 8 hours to get cool. If your pan is not very deep then it will get cold within 4 to 5 hours.
8: Take a large bowl and add powdered sugar and ¼ cup of cornstarch or cornflour and mix them well. This will give you a powder of sugar and cornflour.
9: Now take a large serving tray and sprinkle 2 spoons of powder (sugar and cornflour powder). Now flip up the pan and place Turkish delight (Lokum) on the tray. Use a knife or pizza cutter to cut it into cubes. Grease your knife or pizza cutter before cutting.
10: After making the cubes, add the cubes into the powder sugar one by one and make sure that there is not an empty space. Cover each and every cube with sugar. This will not allow the cubes to stick with one another.
Storing tip:
"Store in an air-tight box with a lot of the powder sugar mixture."
If you like the recipe try another delecios turkish recipe
Please give us your feedback and write your taste experience with Turkish delight. Write your comments in the comment section below.
You may also like the recipes from these categories