Introduction and Overview of Youtiao Recipe
Youtiao is a popular breakfast food in China and Taiwan. It is a long, deep-fried strip of dough with a golden brown color. In Beijing, you can find it in most breakfast shops. In the morning, when the sun rises, beachgoers can be seen sitting on the cold sand eating youtiao with a cup of warm soy milk. This blog will give you a detailed youtiao recipe. So let's start the best youtiao recipe without wasting any time.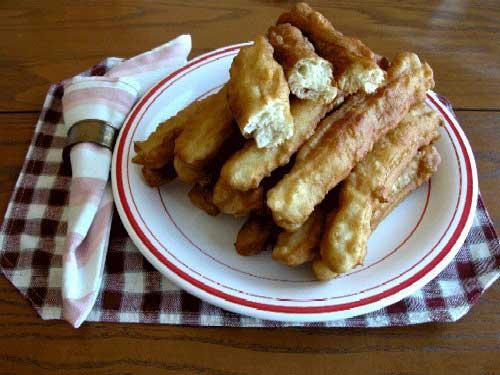 ---
Ingredients for Youtiao:
3/4 glass of warm water
1 teaspoon of baking powder
1/2 teaspoon of sugar
1 3/4 cups all-purpose flour
1 teaspoon of salt
2 tablespoons olive oil
Equipment
Large bowl
Pin roller
Wooden spatula
Dough maker
Step by Step Instructions
In a bowl, mix the flour, water, and baking powder. Mix with a wooden spatula. Add the salt and olive oil. Knead for 15-20 minutes. Let the dough rest for 2 hours.
After 2 hours, handle the dough with the help of a little flour so that your hands do not get sticky. Flatten the dough and fold it several times. Let the dough rest for 2 more hours.
After 2 hours, flatten the dough again and fold it several times. Use the roller to achieve a thickness of 3 mm. Cut it rectangular 3 cm wide and 15 cm long. Put 1 on top of the other. Make a line in the middle with the help of the part behind the knife.
Heat the oil and fry one by one, pouring the hot oil over the youtiao so that it inflates. Fry until golden brown. Serve with hot sauce and enjoy.
Watch the YouTube video to see the Youtiao recipe visually

That was the tasty and my favorite Youtiao recipe. Try this at home today for your kids for breakfast. Do not forget to share your thoughts in the comments section below.