Introduction and Overview about Apollo Fish Recipe
Best and easy Apollo fish fry recipe, can be tried on any occasion. The soft Basa fish is coated with a tangy and spicy coating. This is an appetizer for any occasion.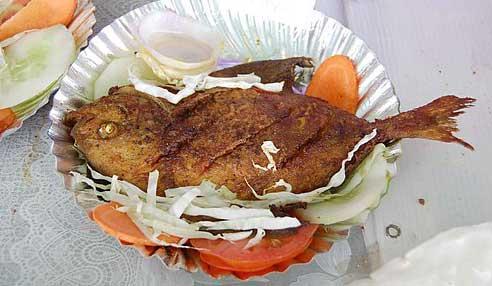 ---
Ingredients for Apollo Fish:
Basa fish pieces – 250 gm (If Basa fish is not available, you can use any other fish, but Basa fish is recommended for this recipe)
Corn flour – 1 tablespoon
Plain flour – 1 tablespoon
Egg – 1
Ginger garlic paste – 1 teaspoon
Turmeric powder – 1/4 teaspoon
Chili powder – 1 teaspoon
Salt to taste
Refined oil for frying
For the tempering :
Chopped ginger & garlic – 1 teaspoon
Chopped green chilies – 3
Curry leaves – 12 to 15 (Optional, if you don't find it, leave it)
Red Chili paste – 1 tablespoon
Soy sauce – 1 teaspoon
Coriander powder – 1 teaspoon
Curd – 1/4 cup (Use yogurt if curd is not available)
Crushed pepper – 1/2 teaspoon
Lime juice – 1 tablespoon
Equipment
Large
Frying pan
Large wok
Step by Step Instructions for Apollo Fish Recipe:
Make a mix of egg, cornflour, plain flour, ginger garlic paste, salt, chili powder, and turmeric powder.
Add the fish pieces (or whole fish) to the above mix and marinate for 30 minutes.
Deep fry them in very hot oil and keep them aside.
Now, heat a wok with little oil.
Add chopped ginger, garlic, chilies, and curry leaves.
Stir and add the powdered masalas (spices) and curd. Cook for a couple of minutes and then add the fried fish pieces.
Give it a mix and serve. Your Apollo fish is ready to eat. Enjoy it.
Watch the YouTube video below. It is an apollo fish fry recipe by vahchef.
---
Apollo fish recipe in the oven
Some don't want to intake so much oil or they are on a strict diet plan. So, we are presenting the recipe made with an oven. No oil and no deep frying. Don't worry about weight gain and oily skin problems and have the oven-baked fish. This easy-baked fish recipe is time-saving and gets cooked within 20 minutes. In this way, you can prepare entire meals on your table in no time. So what are we waiting for?? Let's get started.
you can also try other fish recipes at safa recipes.
Ingredients:
250 grams fish (Use any white fish like grouper, haddock, or cod)
4 tablespoon mayonnaise
1 to 2 tablespoon lime juice
1 tablespoon onion powder
Salt as per taste
Black pepper powder as per taste
A little bit of dried or fresh breadcrumbs
½ cup of melted butter
Chopped parsley for garnishing
Equipment
Same as used in the above variant + an oven.
Step by Step Instructions for Apollo Fish Recipe in the oven:
Start with making the creamy topping for the fish. Have your mayonnaise in a medium bowl. Add mayonnaise, lime juice, onion powder, salt, and black pepper, and give them a mix to combine the ingredients.
Now pour this mayonnaise mixture on each of the fish fillets.
When your fish has been coated with mayonnaise mixture, sprinkle the fresh bread crumbs. Now drizzle with melted butter. This will help to brown the breadcrumbs and crisp them up.
Now heat up the oven up to 425 degrees and bake the fish for 20 minutes. After 20 minutes, check the fish if it flakes with a fork easily. Give it more heat if it still needs.
Sprinkle with parsley and you are done.
Note:
This recipe can serve 4. If you want to change the number of servings, then adjust the number of ingredients. In some cases, the baking time needs to be adjusted. Baking time depends on the thickness of the fish too.
Watch the video below for the baked fish fillets recipe.
Helping Video about "Baked Fish Fillet Recipe"
Video by: Cooking With Claudy
Please give us your feedback about your experience with Apollo fish. To experience restaurant-style fish recipes, please click here. Write your comments in the comment section below.
12 Best Types of Fish to Eat