Introduction and Overview about Tom Yum Goong Soup Recipe
Tom Yum Goong is the classic and perhaps the most famous of the Thai soups. Here is the easy and best Thai Tom Yum Goong Soup recipe and you can try it at home. This soup can also be made with chicken or any white fish.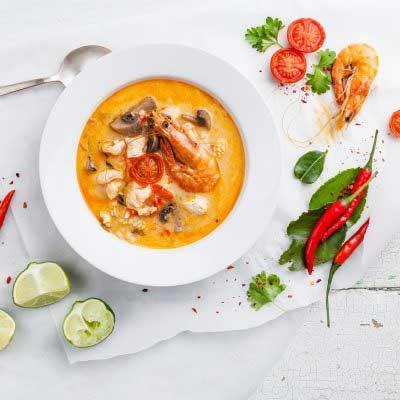 ---
Tom Yum Goong Soup Ingredients :
4 cups water
2 stalks of lemongrass were crushed and cut in about 2-3 lengths.
3 pieces sliced galangal root (crushed)
3 pieces fresh lime leaves
12 pieces fresh shredded chili pepper
1 tablespoon tamarind paste
1 tablespoon fish sauce
300-400 grams of peeled shrimp
Half white sliced onion
2 tablespoons fried chili paste
100 g Straw Mushrooms (optional)
1 small sliced tomato (remove seeds)
1 lime
Equipment
Large bowl
Knife
Knife sharpner
Cutting board
Cooking pot
Step by Step Instructions
Boil water on medium heat, then add the lemongrass, galangal, lime leaves, fish sauce, and tamarind paste.
Then add the shrimp and let them cook for about 3 minutes.
Then add the onion, chili paste, and mushrooms (Straw Mushrooms)
Cook for 6 to 7 minutes until the shrimps are cooked through.
Add the chili pepper and tomato and cook for 2 to 3 minutes.
Turn off the heat and squeeze the lime juice into the soup.
Add more fish sauce if needed.
Now, Tom Yum Goong Thai soup is ready to serve.
If you like this recipe try another delicious recipe
Watch the easy tom yum goong soup recipe video below.
Helping Video about Authentic Tom Yum Goong Soup
(Click the red icon below to start the video)
You may also like the recipes from these categories