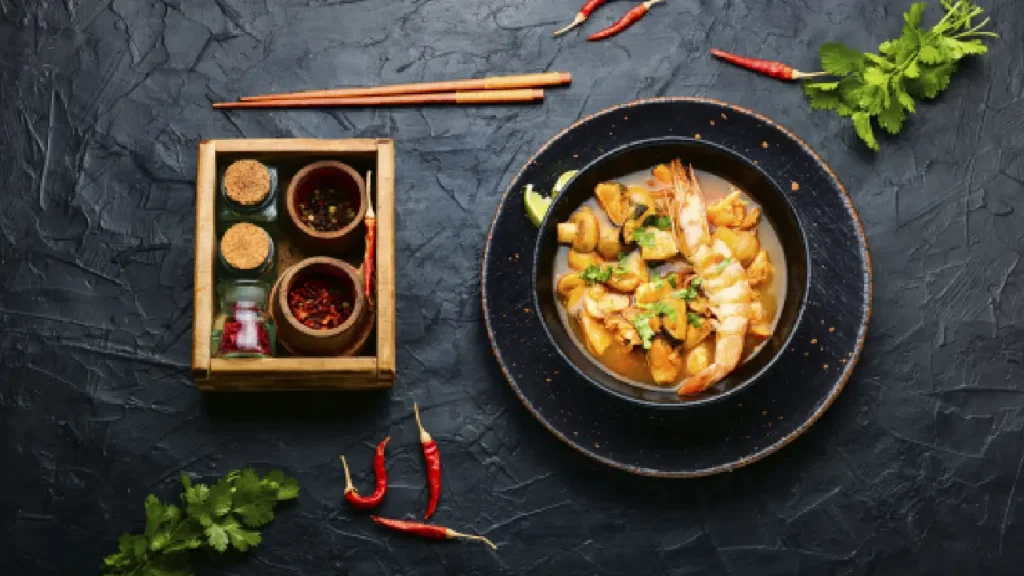 Introduction and Overview of Tom Yum Goong Soup Recipe
Tom Yum Goong is the classic and perhaps the most famous of the Thai soups. Here is the easy and best Thai Tom Yum Goong Soup recipe and you can try it at home. This soup can also be made with chicken or any white fish.
| | |
| --- | --- |
| Prep time: 20 min | Resting time: 0 min |
| Cooking time: 15 min | Total time: 35 min |
| Serving: 3 | Course: Breakfast |
| Cuisine: Thai | Calories: 156 cal |
Tom Yum Goong Soup Ingredients :
4 cups water
2 stalks of lemongrass were crushed and cut in about 2-3 lengths.
3 pieces sliced galangal root (crushed)
3 pieces fresh lime leaves
12 pieces freshly shredded chili pepper
1 tablespoon tamarind paste
1 tablespoon fish sauce
300-400 grams of peeled shrimp
Half white sliced onion
2 tablespoons fried chili paste
100 g Straw Mushrooms (optional)
1 small sliced tomato (remove seeds)
1 lime
Equipment:
Large bowl
Knife
Knife sharpener
Cutting board
knife sharpener
Cooking pot
Step-by-Step Instructions
Step 1
Boil water on medium heat, then add the lemongrass, galangal, lime leaves, fish sauce, and tamarind paste.
Step 2
Then add the shrimp and let them cook for about 3 minutes.
Step 3
Then add the onion, chili paste, and mushrooms (Straw Mushrooms)
Step 4
Cook for 6 to 7 minutes until the shrimp are cooked through.
Step 5
Add the chili pepper and tomato and cook for 2 to 3 minutes.
Step 6
Turn off the heat and squeeze the lime juice into the soup.
Step 7
Add more fish sauce if needed.
Step 8
Now, Tom Yum Goong Thai soup is ready to serve.
Creamy tom yum Image Gallery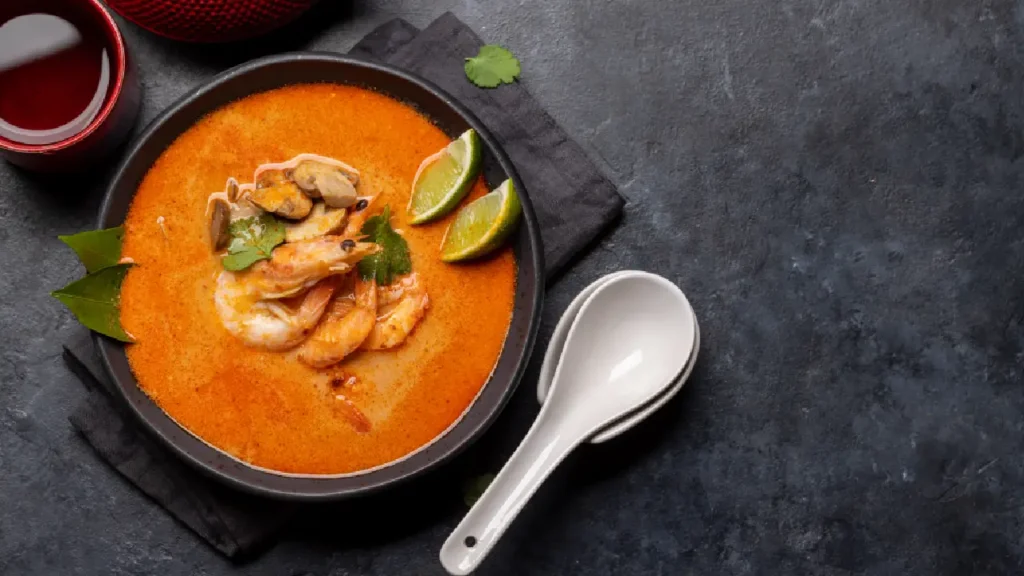 Watch the easy tom yum goong soup recipe video below.
Helping video for tom yum goong soup Recipe
(Click the red icon below to start the video)
Kindly tell us about your experience with Tom Yum Goong Soup and also try some other delicious recipes. Write your experience in the comment section below.
---
Tom yum paste recipe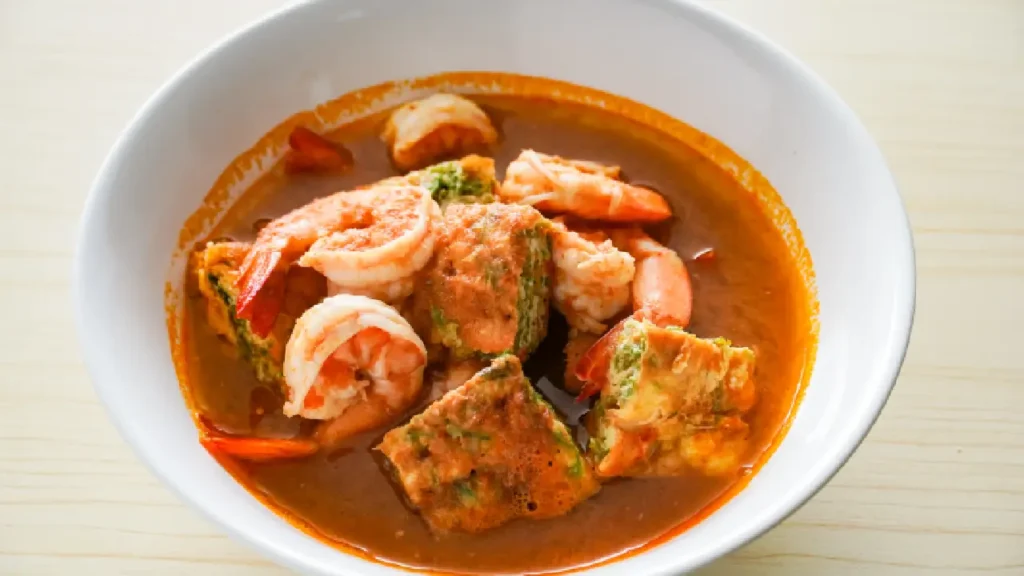 Introduction:
Discover the essence of authentic Thai cuisine with our homemade Tom Yum Paste. Bursting with fragrant herbs and spices, this fiery blend will add an irresistible kick to your dishes. Perfect for creating the iconic Tom Yum soup or infusing other recipes with Thai flavors. Unleash your culinary creativity and elevate your taste buds to new heights.
Ingredients:
15 large red chilies, cut in half and seeds removed
5 cloves of garlic
15 kaffir lime leaves, leaves removed from the stems
50 g of fresh ginger, sliced into small pieces (about 0.5 cm)
40 g of fresh galangal
2 stalks of fresh lemon grass, use only the white part
150 g of shallots
3 tablespoons of raw cane sugar
20 g of shrimp paste (optional)
20 g of fresh coriander, including the roots
2 kecombrang buds
15 dried chilies, seeds removed and soaked until soft
50 g of cooking oil
2 tablespoons of fish sauce
50 g of lime juice
Preparation method:
Step 1
In a blender or food processor, combine red chilies, garlic, kaffir lime leaves, ginger, galangal, lemongrass, shallots, raw cane sugar, shrimp paste (if using), fresh coriander, kecombrang buds, and soaked dried chilies.
Step 2
Blend the ingredients until a smooth paste forms. Add a small amount of water if needed for smoother blending.
Step 3
Heat cooking oil in a pan over medium heat. Add the paste and cook for 5-7 minutes, stirring constantly, until fragrant.
Step 4
Reduce the heat to low and add fish sauce and lime juice. Stir well to blend the flavors.
Step 5
Cook the paste for an additional 2-3 minutes, allowing it to thicken slightly.
Step 6
Remove the pan from heat and let the Tom Yum paste cool completely.
Step 7
Transfer the paste to a sterilized jar or airtight container, and store it in the refrigerator for up to 2 weeks.
Step 8
Your homemade Tom Yum paste is now ready to enhance a variety of delicious Thai recipes! Enjoy the authentic flavors of Thailand in your own kitchen
---
Tom Yum Seasoning
Preparation:
Add Exciting Thai Flavors to Your Cooking
If you love Thai food, you've probably tasted the bold and delicious flavors of Tom Yum. This famous soup is known for its spicy, sour, and fragrant taste that people all over the world enjoy. But why limit the goodness of Tom Yum to just soups? Now, with Tom Yum seasoning, you can bring the essence of this popular Thai dish to a variety of recipes, making them even more tasty and exciting.
Tom Yum seasoning is a special blend of herbs and spices carefully chosen to capture the essence of the traditional Tom Yum soup. It includes ingredients like lemongrass, kaffir lime leaves, galangal, chili peppers, and other flavorful herbs. All these ingredients are finely ground and blended together to create a harmonious mix. Using this seasoning is an easy way to incorporate the vibrant and complex flavors of Tom Yum into your favorite dishes, whether it's stir-fries, marinades, grilled meats, or even salads.
By using Tom Yum seasoning in your cooking adventures, you can transform ordinary dishes into extraordinary creations that take you on a journey to the lively streets of Thailand. The spicy kick, tangy hints, and aromatic undertones of Tom Yum will awaken your senses and leave you wanting more. Whether you're looking for a fiery kick or a delightful twist, let Tom Yum seasoning be your secret ingredient to unlock the magic of Thai cuisine in your own kitchen.
Embrace the wonderful flavors of Thailand and embark on a culinary adventure with Tom Yum seasoning. Every bite will be bursting with authentic Thai flavors, creating a symphony of tastes that will impress and delight you and your guests. Get ready to experience the vibrant essence of Tom Yum in every mouthwatering dish you prepare
---
Tom yum hot pot recipe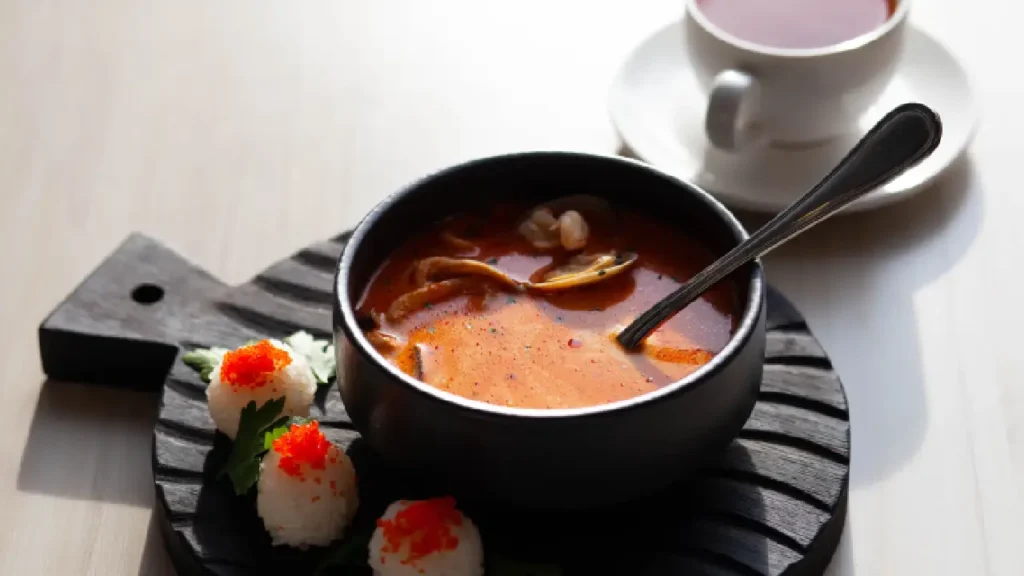 Introduction:
Get ready to ignite your taste buds with our tantalizing Tom Yum Hot Pot recipe. Inspired by the vibrant flavors of Thai cuisine, this hot pot brings together the perfect blend of spicy, tangy, and aromatic elements. Gather your loved ones for a culinary adventure as you dip succulent meats, fresh vegetables, and fragrant herbs into a simmering pot of Tom Yum broth. From the first spoonful to the last, this Thai Tom Yum Hot Pot will transport you to the bustling streets of Thailand, warming your soul with each flavorful sip.
Ingredients:
500g thinly sliced lamb meat
1-liter chicken or vegetable broth
4 cups water
2 stalks of lemongrass (bruised)
5 kaffir lime leaves
3 slices galangal
5 Thai bird's eye chilies (lightly crushed)
1 medium-sized onion (thinly sliced)
200g sliced mushrooms
2 tomatoes (cut into wedges)
100g baby corn (halved lengthwise)
100g snow peas
2 tablespoons fish sauce
2 tablespoons lime juice
Fresh cilantro leaves (for garnish)
Preparation method:
Step 1
In a large pot, bring the chicken or vegetable broth and water to a boil. Add lemongrass, kaffir lime leaves, galangal, and Thai bird's eye chilies. Let it simmer for 10 minutes to infuse the flavors.
Step 2
Add the lamb slices to the pot and cook for about 3-5 minutes until they are tender and fully cooked.
Step 3
Add the onion, mushrooms, tomatoes, baby corn, and snow peas to the pot. Let them simmer for an additional 5 minutes until they are cooked but still have a slight crunch.
Step 4
Stir in the fish sauce and lime juice according to your taste preferences. The fish sauce adds saltiness, while the lime juice adds a tangy flavor.
Step 5
Serve the Tom Yum Hot Pot in individual bowls, garnished with fresh cilantro leaves. Enjoy the aromatic and spicy broth by dipping the tender lamb and vegetables into it.
Note: Feel free to customize the ingredients and spice level based on your preferences. You can add more chilies for extra heat or adjust the vegetables to your liking. The key is to create a flavorful and spicy broth that complements the tender lamb meat.
---
Tom yum sauce recipe:
Introduction:
Experience the vibrant taste and numerous benefits of Tom Yum with our homemade Tom Yum Sauce recipe. This versatile sauce captures the essence of the famous Tom Yum soup, known for its bold and zesty flavors. With just a few simple ingredients, you can create a sauce that adds a delightful kick to your dishes. Not only does it bring a burst of flavor, but Tom Yum sauce also offers various health benefits, thanks to the herbs and spices used. Elevate your culinary creations and enjoy the goodness of Tom Yum with our homemade sauce.
Ingredients:
350g medium shrimp (shell and head on if possible)
4 cups water
2 lemongrass stems (bottom half only)
10 slices of galangal
6 kaffir lime leaves
Thai chilies (to taste)
½ cup evaporated milk
3-4 cups oyster mushrooms, straw mushrooms, or other Asian mushrooms
Use ¼ cup of Thai chili paste (nam prik pao).
3 tablespoons fish sauce
¼ cup lime juice
1 large handful of chopped cilantro or coriander
Jasmine rice to serve
Preparation method:
Step 1
Rinse the shrimp well and peel them. Place the shrimp heads and shells in a pot and sauté them over medium-high heat until lightly browned.
Step 2
Add water to the pot, scrape up any browned bits, and simmer for 15-20 minutes. Use a slotted skimmer to remove the shells, draining as much liquid as possible.
Step 3
Crush the lemongrass and cut it into pieces. Tear the kaffir lime leaves coarsely. Finely chop the chilies or crush them into a paste.
Step 4
Bring the broth to a simmer and add the lemongrass, galangal, kaffir lime leaves, and chilies.
Step 5
Cook over low heat for 5 minutes. Note: The herbs are not meant to be eaten, so they can be collected at this point.
Step 6
Add the evaporated milk and bring the soup to a boil. Add the mushrooms and cook for 1-2 minutes until the mushrooms are done.
Step 7
Stir in the chili paste and fish sauce, allowing the chili paste to dissolve. Add the shrimp meat and cook for about 30 seconds until done.
Step 8
Turn off the heat and let the soup cool down for a minute. Stir in the lime juice.
Step 9
Add the chopped cilantro or coriander, taste the soup, and adjust the seasoning if needed.
Step 10
Serve the soup by pouring it over rice, adding rice to the soup bowl, or keeping the soup on the side as part of a larger meal. Enjoy
---
FAQs