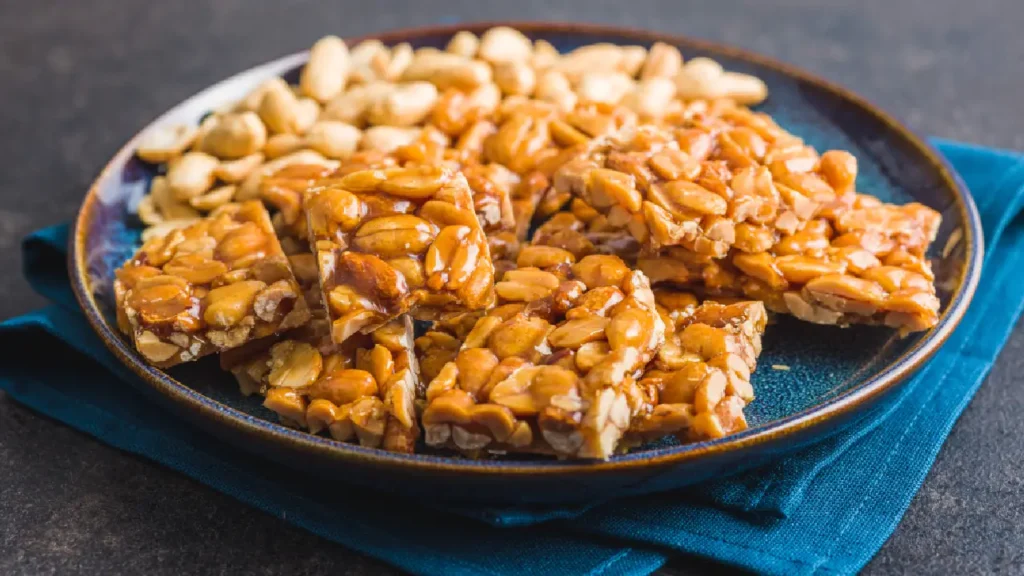 Introduction and Overview of big hunk Recipe
Annabelle's Big Hunk is an American candy bar with very vintage connotations! It is loved throughout the United States and has been around since the 1950s! (see more details here). Unlike normal bars, Big Hunk is longer and has a flat shape! Basically, it's a strip of soft chewy nougat with honey and it's entirely stuffed with whole roasted peanuts! A delicious snack that you will hardly be able to taste elsewhere!
Indulge in a delightful treat with our sensational big hunk candy bar recipe. This heavenly confection captures the essence of the beloved big hunk candy, offering a homemade twist on this classic delight. Get ready to sink your teeth into a chewy, nougat-filled bar, packed with nuts and caramelized goodness. Prepare to satisfy your sweet tooth with this irresistible homemade Big Hunk creation.
| | |
| --- | --- |
| Prep time: 05 Mins | Resting time: 0 Mins |
| Cooking time: 25 Mins | Total time: 30 Mins |
| Serving: 20 | Course: Dessert |
| Cuisine: American | Calories: 288 cal |
Big hunk recipe Ingredients
1 cup of water
2 cups of granulated sugar
2 cups shelled and roasted peanuts
3/4 cup honey
1/4 cup light corn syrup
2 butter spoons
1 teaspoon salt
1/2 cup peanut butter
1/4 teaspoon bicarbonate of soda
Equipment:
Aluminum foil
Nonstick cooking spray
Medium saucepan
Candy thermometer
Stirrer
Step by Step Instructions for homemade big hunk recipe
Step 1
Prepare a large baking sheet by lining it with aluminum foil that extends over the edges and spraying the foil with nonstick cooking spray.
Step 2
Combine the sugar and water in a medium saucepan.
Step 3
Stir until the sugar is completely moistened, then add the honey, corn syrup, and salt.
Step 4
Cook the candy over medium-high heat until it reaches 225 F on a candy thermometer.
Step 5
At this point, add the peanuts and stir to combine. Continue cooking, stirring constantly, until the mixture reaches 290 F.
Step 6
Remove pan from heat and add butter, baking soda, and peanut butter.
Step 7
Mix until well combined then pour into the prepared pan.
Step 8
Spread the caramel as thin as possible with a spatula or spoon and let it sit at room temperature.
Step 9
Once completely cool, break into small pieces to serve.
Step 10
Store Brittles in an airtight container or plastic bag at room temperature.
Helping Video for Russian Baranka Recipe
(Click the red icon below to start the video)
FAQ