Introduction and Overview about Best Biscotti Recipe
These are the crispy and crunchy almond-flavored cookies. Biscotti is originated from the Italian city, Prato(interesting information). Very famous and liked all around Italy. This is known as "Cantuccini" in Italy too. Perfect for breakfast and high tea. Let's see the Italian Almond biscotti recipe.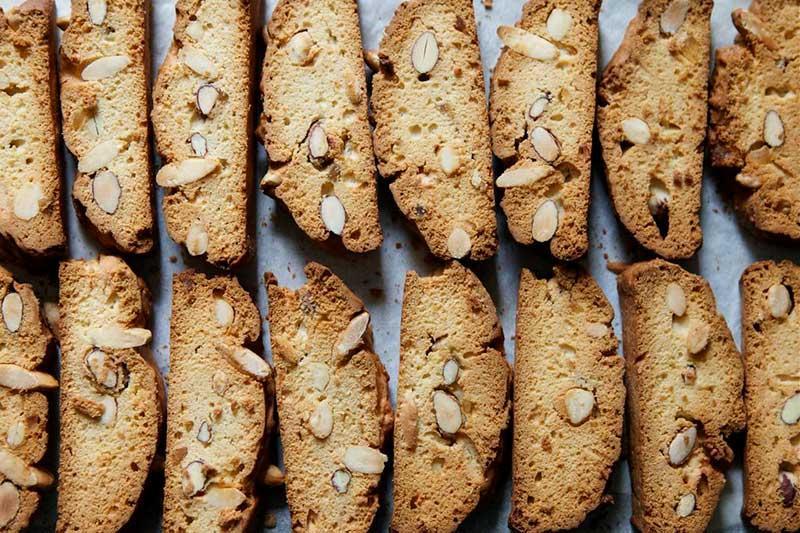 ---
Ingredients for Biscotti Recipe:
100 g butter, unsalted
3 cups granulated sugar
3 Pcs eggs
8 cups flour
1 teaspoon baking soda
1 pinch of salt
1 teaspoon cardamom seeds
50 g almonds, blanched and chopped
Beaten egg for brushing
Equipment
Food processor
Electric mixer (or hand mixer if you don't have electric one)
Oven
Step by Step Instructions
Heat the oven to 200 degrees.
Stir the unsalted butter and sugar until well blended and you can also use the food processor.
Then add the eggs, one by one, and mix well and It is recommended to add the eggs one by one.
Now stir together the dry ingredients and the almonds and mix them into a smooth dough.
Then roll the dough into a ball and divide it into four parts.
Now roll the pieces into rolls that you put on a sheet and flatten into rectangles about 2 centimeters thick and 5 cm wide.
Then brush with beaten egg and bake in the middle of the oven for about 30 minutes.
Now reduce heat to 125 degrees.
Then let it cool for 5 minutes before cutting them into about 2 centimeters thick pieces across.
Now place them on a wire rack and allow them to dry in the oven for about 20 minutes.
If you did not get the Biscotti recipe very well, you can watch the video below to have a better look and learning..
Helping Video about Biscotti Recipe
(Click the red icon below to start the video)
You may also like the recipes from these categories