French Onion Soup Recipe without wine
Introduction and Overview about French Onion Soup Recipe without wine
French onion soup recipe without wine has been famous since the Roman Era. This soup is considered as the poor people's soup because onions are easy to grow and cheap. But with the modern times, it became renowned in rich families as well.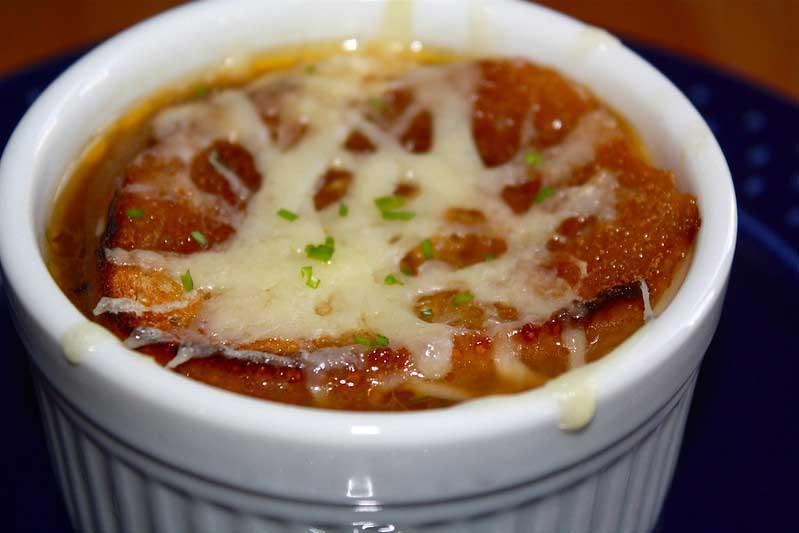 ---
Ingredients for French Onion Soup:
3 large yellow, thinly sliced onions
2 potatoes, in thin slices
2 slices of garlic, sliced
0.5 dl olive oil
25 g butter
1 pinch of sugar
500 ml chicken broth
200 ml water
A pinch of salt
Freshly ground pepper
Some leaves of fresh thyme
4 slices of roasted white bread
Equipment
French onion soup bowls
Knife
Knife sharpner
Step by Step Instructions
Heat the oven to 200 degrees.

Scale and strip the onion and garlic. Mash the onion and garlic together with potatoes in oil and butter.
Add the water and sugar. Now add the broth. Let it soft and mix. Taste with salt, pepper, and thyme.
Pour the soup into four French onion soup bowls. Load bread and cover with lots of cheese.
Gratinate the soup for a few minutes in the upper oven at 200 degrees until the cheese is crusted and golden brown.
Watch the video below having French Onion Soup Recipe in detail.
Helping Video about French Onion Soup Recipe without wine
Video by: Shireen Falasteen
French Onion Soup Recipe for Vegetarians
Some of us don't like meat and chicken, so we prefer vegan foods to tackle their specific health issues. So, we are presenting you with this French onion soup recipe in a vegetarian format. Let's get started.
4 Servings
Ingredients for Vegetarian French Onion Soup:
6 yellow onions
3 garlic cloves
100 ml water
2 tbsp olive oil
1-liter vegetable broth
1 bay leaf
Some leaves of fresh thyme (or 1 teaspoon dried)
6 pieces of bread
200 grams of grated cheese
Method:
1: Peel the onions, divide them, divide each half again, and slice very thinly.
2: Mash the onion for a long time in olive oil for 15-20 minutes until golden brown.
3: Add broth, water, crushed garlic, and bay leaf. Cook for 15 minutes.
4: Cut the bread into big dice and fry it. Taste the soup with salt and pepper and spread it into oven-proof serving bowls.
5: Distribute the bread and the cheese over the soup. Gratin 8-10 minutes in the oven.
6: Your vegetarian soup is ready. Serve immediately.
---
Cheap and Diabetic French Onion Soup Recipe
Are you diabetic and want to enjoy this delicious French food? You are at the right place on this page. Keep reading and we are going to tell you the way to cook this soup for patients with diabetes. Let's start.
Ingredients:
6 stewed onions
4 tablespoons butter
2 vegetable soup dough
1.5 liters of water
0.5 teaspoon pepper
1 bay leaf
0.5 teaspoon (dried) or a small twig of fresh thyme
4 pieces of bread
200 g of tasty cheese
How to prepare:
1: Split the onion in length. Cut thin slices.
2: Make the golden in the butter.
3: Add the broth pieces, and pour on the water. After 2 minutes, add pepper, thyme, and bay leaves.
4: Stew under cover for about 30 minutes.
5: Roast the bread. Divide each piece into 9 pieces. Grate the cheese.
6: Pour the soup into the oven-proof dish, or into four oven-proof serving bowls.
7: Place the bread on top and sprinkle the cheese over. Pour the bread slightly into the soup and make sure the cheese is covered, otherwise, the bread becomes slightly burnt.
8: Gratin to 250 degrees (possibly grill) until the cheese melted and received a beautiful color.
9: You are ready to have this wonderful soup. Enjoy.
Tip:
"You can add beef broth instead of chicken. By adding beef broth, you can enjoy beef onion soup."
If you liked this recipe, kindly share this post with others and write your experience in the comment section below.