Introduction and Overview about Homemade Ayran Recipe
The homemade Ayran recipe is a thirst-quenching drink happily served with hot and spicy food. It should ideally be served ice cold with ice. A popular yogurt drink in the Middle East, Turkey, and Lebanon. It has many versions but the main and most popular version belongs to Susurluk (a small town in western Turkey). This is also drunk in South Asia, where it is called "Lassi". Ayran drink is a kind of diluted yogurt because the main ingredients are refreshing yogurt, salt, and ice water. Very refreshing yogurt drink, especially in the summer season. Now, let's move toward the Turkish Homemade Ayran recipe.
| | |
| --- | --- |
| Prep time: 15 Mins | Resting time: 0 hrs |
| Cooking time: 30 Mins | Total time: 15 Mins |
| Serving: 5 | Course: Drinks |
| Cuisine: Turkish | Calories: 118 cal |
ayran recipe turkish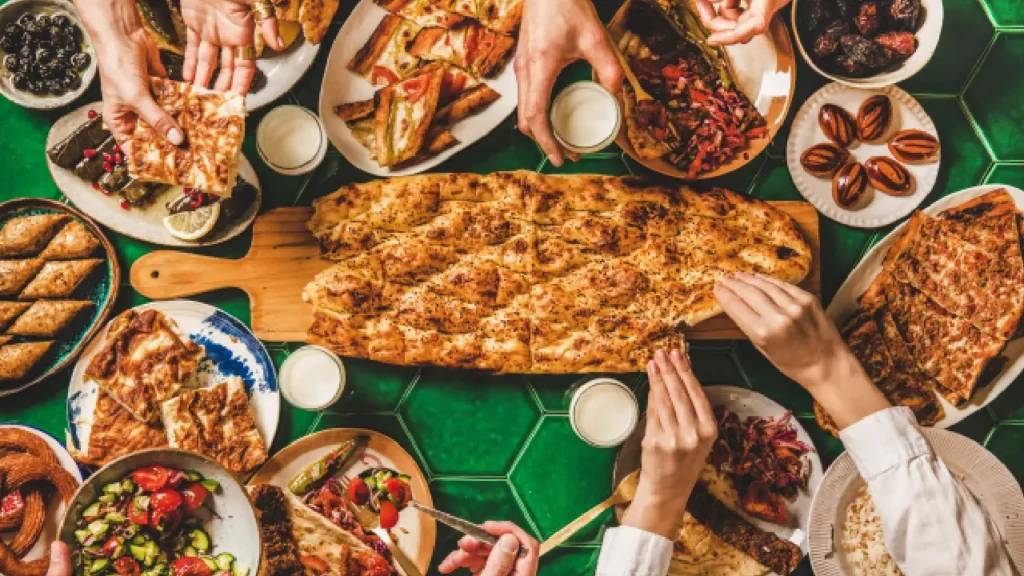 Ingredients for Homemade Ayran Recipe:
5 cups plain yogurt (liquid yogurt in tetra pack)
5 cups water
Salt to taste
Equipment:
Large bowl
Blender
Large Jug
Step-by-Step Instructions
Step 1
Mix yogurt, water, and salt all together. Whisk vigorously until mixed together properly. You can whisk with a hand whisk or blender.
Step 2
Taste the drink and add more water/yogurt or more salt to have the required taste and thickness. Have the seasoning if desired.
Step 3
Your tasty drink is ready. Make sure to add some cubes of ice before serving.
Watch the video below to have the Lebanese Ayran recipe
Helping Video about Turkish Ayran Recipe
Video by: Spice Eats
Sweet Ayran Recipe
Sweet Ayran is more satisfactory and refreshing in the summer. There is a slight change in sweet and regular ayran. Here is the recipe.
Ingredients:
5 cups plain yogurt (don't add yogurt water, we need just yogurt)
5 cups water
5 tablespoons sugar (Sugar can be adjusted according to your own taste)
Process:
Add yogurt, water, and sugar to a blender and blend it until smooth.
Ice can be added according to season or according to your own desire.
Ayran Recipe with Mint & Garlic
This satisfactory drink has some kind of variations according to the taste of different people. Below is the recipe with mint and garlic. This can add more taste and nutritional value to it. More thirst-quenching, tastier, and more appealing. Let's have a look at its recipe.
Ingredients:
Yogurt as mentioned above (5 cups)
5 cups of water
3 to 4 cleaned leaves of mint
1 or 2 cloves of garlic
Salt to taste or 5 tablespoons of sugar (Choose one according to your taste. Sometimes people want to add both because they love it with some sweet and salty taste)
Optional Ingredient
1 lemon (It can make it richer in taste)
Method:
The process is pretty simple. Just add all the ingredients with some ice cubes in a food processor and blend it until smooth.
Stop the blender and taste it. Add more quantity of salt (or sugar) or water
Important to read:
Ayran looks beautiful and feels tasty if there is a lot of foam on its surface. The froth can enhance the taste experience and beauty.
"The secret of more foam is mineral water. It is important to use mineral water to make Ayran foamier."
Here comes the informational catch:
The same type of drink has been drunk in South Asia, especially in Pakistan / India. This drink is called "Lassi" over there.
The names are different in the Middle East and South Asia, but the recipe and the ingredients are almost the same.
Recommended:
If you are taking Ayran just for pleasure, it is recommended to have the mint/garlic version.
And take it plain or simple if you are taking it with some other food like kibbeh nayeh, Lebanese falafel, chicken tikka, etc…..
Please write your feedback about the chilled ayran yogurt drink, in the comment section below.
Try out our other Turkish recipe by just clicking here