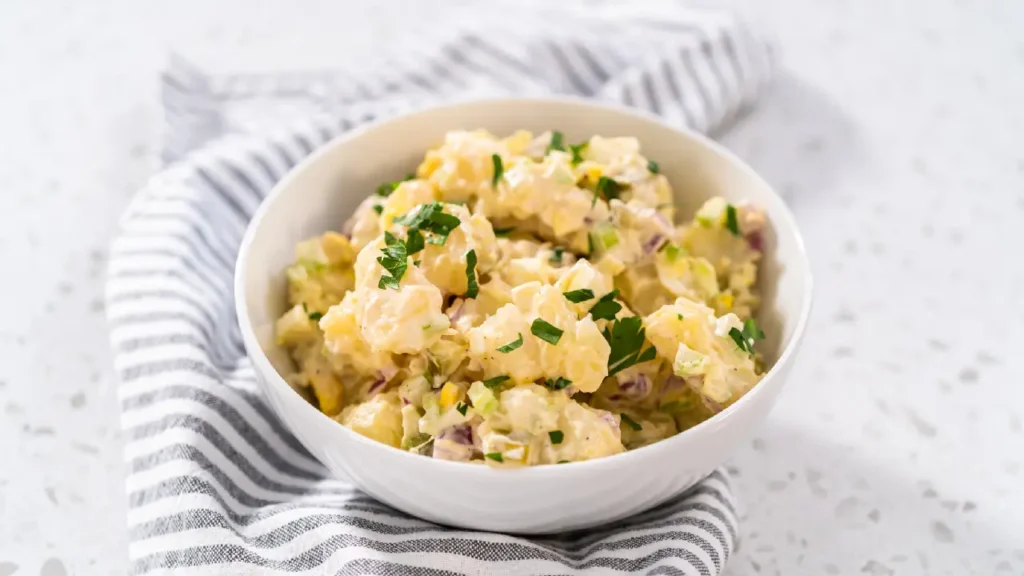 Introduction and Overview of salt lick potato salad recipe
Get ready for the timeless delight of a classic salt lick potato salad recipe. This recipe combines tender potatoes, fresh herbs, tangy flavors, and a creamy dressing to create a crowd-pleasing side dish. Perfect for picnics, barbecues, or any gathering, this potato salad is a true favorite that will leave everyone asking for seconds. And here are some benefits of potato salad
| | |
| --- | --- |
| Prep time: 3 Mins | Resting time: 0 Mins |
| Cooking time: 20 Mins | Total time: 23 Mins |
| Serving: 4 | Course: Salad |
| Cuisine: American | Calories: 250 cal |
Ingredients
1 bunch of cilantro
2 tomatoes
Juice of 1 lemon
2 cloves of garlic
2 boiled eggs
1 tablespoon Dijon mustard
1 teaspoon Italian spices
2 tablespoons olive oil
3 tablespoons mayonnaise
Black pepper, to taste
Fresh basil leaves
4 potatoes
1 stalk of celery
1 bunch of chives
Green stuffed olives
Equipment:
Step-by-Step Instructions
Step 1
Thinly slice the celery and chives. Use both the head and the stalk.
Step 2
Finely dice the garlic and tomatoes.
Step 3
Finely chop the cilantro.
Step 4
In a bowl, combine the celery, chives, garlic, tomatoes, and cilantro. Set aside.
Step 5
Slice the stuffed olives and add them to the bowl.
Step 6
Add salt, Dijon mustard, mayonnaise, Italian spices, black pepper, basil leaves, olive oil, and lemon juice to the bowl.
Step 7
Mix all the ingredients together.
Step 8
Add salt to taste and continue mixing until everything is well combined.
Step 9
Boil the potatoes until cooked. Once cooked, remove the skin, let them cool, and cut them into small cubes.
Step 10
Peel and dice the boiled eggs.
Step 11
Add the potatoes and diced-boiled eggs to the bowl. Mix everything together, ensuring all the ingredients are well incorporated.
Step 12
Your delicious potato salad is ready to be enjoyed!
If you like this salt lick potato salad recipe, please comment in the comment section below to share your thoughts. Want to try some other salad recipes? Here you go!