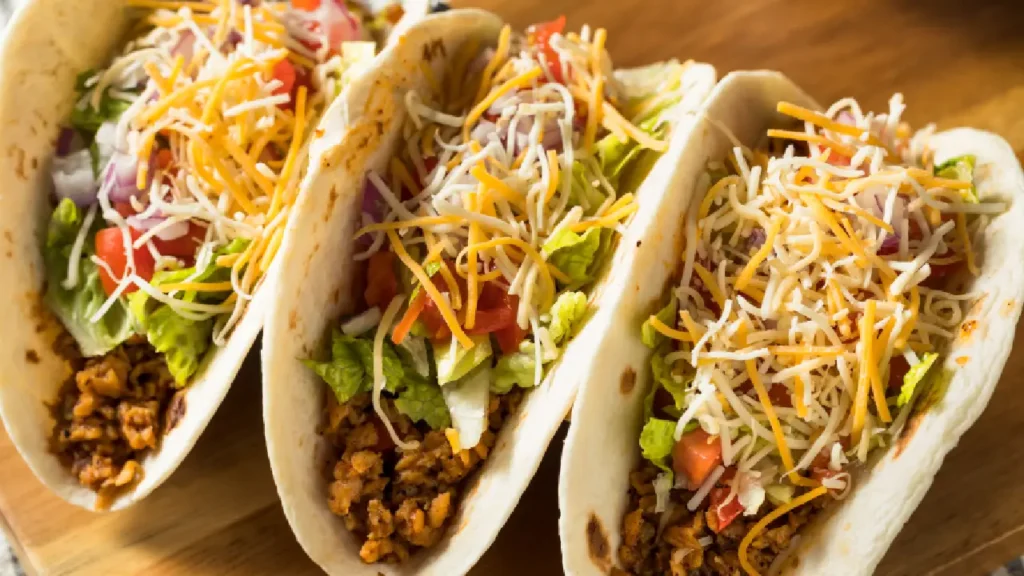 Introduction and Overview about Taco Shell Recipe
Taco Shells Recipe is very simple and easy. Tacos recipe belongs to Mexican Cuisine. There are many taco recipes on the globe, but the common part among them is taco shells. Today we will make the vital component of several taco formulas which are called Taco Shells. Taco can be loaded down with chicken, vegetables, cheddar, fish, meat, or whatever other stuff you like. It can be acquired from the market or you can set it up at home. Custom-made tacos can be stored and can be used whenever you want to use them. The formula that we are exhibiting to you today will make 15 to 20 taco shells.
| | |
| --- | --- |
| Prep time: 30 Mins | Resting time: 0 hrs |
| Cooking time: 20 Mins | Total time: 50 Mins |
| Serving: 5 | Course: Brunch |
| Cuisine: Mexican | Calories: 160 cal |
street taco shell recipe
Ingredients for Soft Taco shells:
1 cup of maize flour

1/2 cup of plain flour
Salt as needed
1 tablespoon cooking oil
Half teaspoon of carom seeds (optional)
Oil and a pan for deep frying
Equipment:
Large bowl
Frying pan
Frying pan
Step-by-Step Instructions
Step 1
Place your maize flour and plain flour in a big bowl.
Step 2
Now add 1 tablespoon of cooking oil and salt. Adding carom seeds is your own choice. It is up to you to use it or not. This can add more flavor to your Taco Shell.
Step 3
Now add some hot water to your bowl. Add some water first and blend elements with the water well. In case you want some more water to make a gentle dough, then mix extra water. You don't need to stop the process for the dough to get organized. You may start making taco shells immediately.
Step 4
Have a little piece of dough and give it a well-rounded form of 3 to 5 inches. Don't let it be too thick or too thin.
Step 5
Have a little piece of dough and give it a well-rounded form of 3 to 5 inches. Don't let it be too thick or too thin.
Step 6
Now hot your oil in a pan and drop this taco into it.
Step 7
After becoming a little bit harder, give it a "U" shape with the help of two tongs and maintain it there to be fully fried and get crispy.
Step 8
Your first taco shell is ready. Make others and fill them with the stuff of your own preference. Enjoy it with family and friends.
Watch the video about Soft Taco Shell Recipe.
Helping Video about Taco Shell Recipe
Video by: Cooking Cloud
Different filler stuff is being used in different parts of the world to enjoy the crispy feel. Kindly mention your experience with this and write the stuff you used to fill the taco shells. Please keep commenting below.
You can also try out our special item by clicking here