Introduction and Overview about Kibbeh Nayyeh Recipe
Kibbeh Nayyeh / raw kibbeh is a beef dish with a lot of spices and bulgur. It belongs to Lebanese foods/cuisine. Kibbeh has many variations in Lebanon, but all have their different and own taste experience.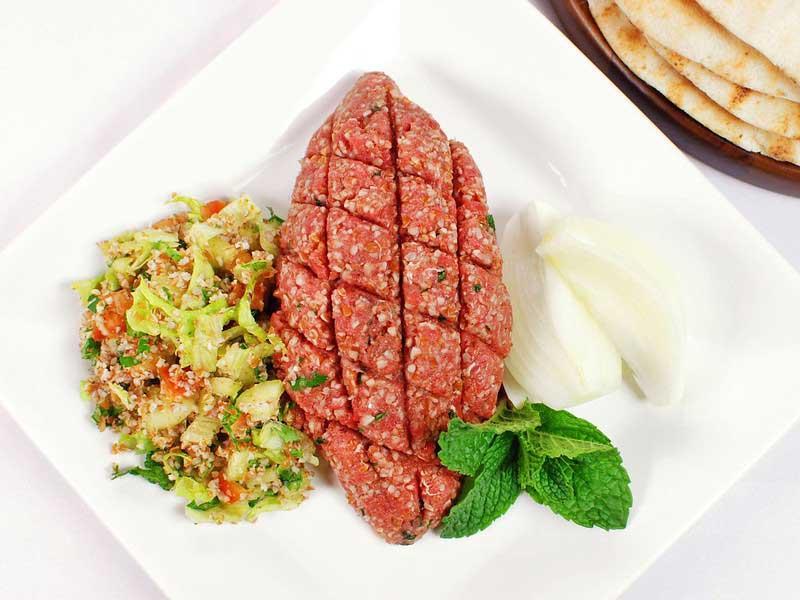 ---
Kibbeh Nayyeh Recipe Ingredients:
250 g extra lean ground beef
1 teaspoon Middle East 7 spices mix
12-15 Sweet Italian basil leaves
1 cube of ice
1 teaspoon sea salt
½ medium white onion
½ cup bulgur wheat
Equipment
Large bowl
Food processsor
Chef's knife
Cutting board
Knife sharpener
Step by Step Instructions
Place the bulgur wheat in a bowl and add water. Water should be 1 inch above the bulgur. Allow it to absorb water for 20 minutes or more. Now fluff the bulgur with the help of a fork.
Add the roughly chopped onion, basil, salt, and 7 spice mix in the food processor. Mix it for about 4 to 5 minutes.
Now is the time to prepare the meat. Place the pulverized mixture along with ground beef and 1 ice cube in the food processor and start processing. Process until you have a fine and well-processed mixture.
In a bowl, mix the desired amount of bulgur wheat. The quantity of bulgur is up to your own taste. Some people like a lot of it, but some don't. Mix them very well.
Now add 7 spices and salt up to taste and your Kibbeh Nayyeh is ready. Season with olive oil and mint leaves and enjoy Lebanese Kibbeh Nayyeh at home.
Note:
Ideal with pita bread, hummus, and tahini.
Watch the Kibbeh Nayyeh YouTube Video.
Lamb Kibbeh Nayeh Recipe
If you don't like beef or beef is harmful to your health or may have some other reason to deny beef, you can try it with Lamb. All the other ingredients and procedures are the same except beef. Exchange beef with minced lamb and you are done with mutton/lamb Kibbeh. You can try this with a combination of cheese and tomato salad.
That was the recipe for kibbeh nayyeh. We mentioned an ingredient named 7 spices. If you could not find it in your nearest superstore, you can watch the seven spices mix recipe here in this video below.
Please give us your feedback about homemade beef kibbeh nayyeh. Write your comments in the comment section below.